Broadcast News
23/10/2012
New Marshall Monitors Hit The Spot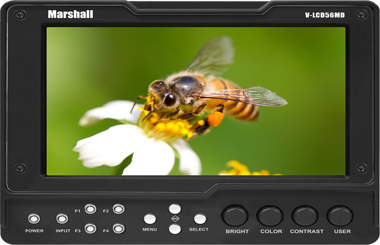 A new range of portable high-resolution 'Camera-Top' picture monitors from Marshall Electronics was introduced to the European market at IBC. With a modular design, these are aimed at meeting a number of today's operational needs in the video market.
The new series of LED backlit monitors comprises the 5.6-inch V-LCD56MD, the 7-inch V-LCD70MD and the 9-inch V-LCD90MD. All are designed to be practical and easy to use.
Features include the new icon-driven menu system, waveform display with stereo audio bars and headphone output, variable pixel-to-pixel function plus Marshall's peaking filter – now in four colours for easier focus assist. For DSLR users there is a choice of picture aspect ratios between normal, 3:2, 16:9, and full screen. This can be programmed to one of the front panel's four-button presets for quick and easy access.
Each monitor is equipped with an HDCP-compliant HDMI input with loop-through as standard. There is also a choice of two further modular I/O configurations.
For example, the 7-inch V-LCD70MD-3G includes the base unit monitor with a pre-installed MD-3GE module that provides an additional 3G/HD/SD-SDI input with a loop-through. The V-LCD70MD-O** version includes the base unit with a MDO-3G module that provides a 3G-SDI output converted from the HDMI input. Finally the V-LCD70MD base unit comes without any installed I/O module but users can add modules to configure the I/O as required. The same I/O options are available with the V-LCD56MD and V-LCD90MD monitors.
Cache Media is Marshall's European distributor. It's Managing Director, Stuart Cameron, comments, "Although these new V-LCD monitors were shown at IBC the really strong interest has come since the exhibition. Marshall always puts together a very practical package and people like the easy-to-use menu structure and the resolution. There's interest in all three sizes with the 7-inch being popular and the 5.6" and 9" looking terrific."
Cache Media delivers these monitors from stock as a complete package that includes screen protector and a choice of battery mount including V Lock.
The screen resolutions are 1280x800 for the 5.6-inch V-LCD56MD, 1024x600 for the 7-inch V-LCD70MD and 1280x768 for the 9-inch V-LCD90MD. Standard features across the range include handling a variety of formats and markers, four user-configurable front panel function buttons, RGB check field / field detect, RGB gain and bias control and polycarbonate screen protection. New features include multiple DSLR presets, six user presets, adjustable IRE clip guide, and backlight control – and more.
Marshall Electronics
Cache Media
(H)
Top Related Stories
Click here for the latest broadcast news stories.