Broadcast News
10/07/2012
Rosco Introduces LitePad Loop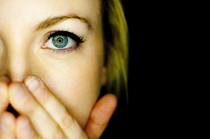 Rosco is proud to introduce the LitePad Loop. LitePad Loop is a ring light that represents the latest addition to our popular LitePad line of LED lighting fixtures.
LitePad Loop is an innovative, easy to use ring light that quickly installs around the lens of a camera for on-axis lighting. LitePad Loop is just over nine inches in diameter with a four and half inch centre hole. The light engine within the Loop is Rosco LitePad which is well known for its flattering, indirect light output. LitePad fixtures are widely used in film and video production because of this quality. Its innovative mounting assembly makes the LitePad Loop easy to install onto any camera – including film, video, and DSLR units.
LitePad Loop is comprised by two main parts - the Loop itself and the mounting assembly. The Loop has a plastic housing which allows for our most durable and lightweight LitePad yet. The plastic housing also turns this LitePad into a consumer level product. The mounting assembly is based on industry standard camera 15mm rod support systems. This system is simple by design, easy to use and lightweight. It allows for full control over the position of the Loop in relation to the camera lens and will work with a wide array of still photo, video and film camera systems. The most innovative aspect of the product is how these two pieces combine. With the use of high-powered magnets, the LitePad Loop simply snaps onto the Mounting Assembly. No screws or adaptor collars required and the magnets are strong enough to hold the Loop on even if the light is bumped or jarred. If you want to take the Loop off the Mounting Assembly, just pull!
Rosco also offers a collection of pre-cut gels for the Loop that attach to the Loop utilising a unique, magnetic accessory collar. We also designed a set of light masks, that also attach using the accessory collar, which will alter the reflections of Loop in highly reflective objects or how the ring light looks in someone's eyes.
LitePad Loop is available individually and also comes in a Pro Kit. The Kit includes additional power and mounting accessories for users that need maximum flexibility and control from their ring lights.
To learn more please visit
www.rosco.com/litepadloop
Top Related Stories
Click here for the latest broadcast news stories.