Broadcast News
11/06/2012
MAC Installs Allen & Heath Digital System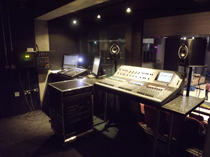 Allen & Heath's Irish distributor, Rea Sound, recently provided all the lighting and sound equipment for the new Metropolitan Arts Centre (MAC) in Belfast, installing iLive and iDR digital mixing systems throughout the venue.
"iLive is a very powerful mixer with an easy to use interface. Even a technician who is new to digital can easily find their way around this console. The MAC is one of the most prestigious arts venues in Ireland with a variety of acts from across the world using its facilities. The audio consoles provide the venue with a very credible audio infrastructure that everyone visiting can use," explains Rea Sound's Roger McMullan.
The venue has two main spaces, the main auditorium, downstairs, and an upstairs studio. An iLive-T112 Control Surface is located in the auditorium, linked by CAT5e cabling to the iDR-48 MixRack located in a 'mic patch' rack. The smaller studio space uses the iLive-R72 surface linked to an iDR-16 stage box, again located in a 'mic patch' rack. These rack units can be taken onto the stage and connected as required.
"The venue's technical staff were impressed with the full flexibility and inter-changeability of the systems, and iLive's ease of use and functionality, which make it the easiest console to install in a project, simply because it ticks all the boxes," says McMullan.
Martin Audio supplied the speaker systems and amplifiers, whilst at the heart of the PA system is an Allen & Heath iDR digital matrix mixer, allowing full control on all inputs and outputs of the PA speaker channels. The iLive consoles provide fully functional digital control, accessible for new users and with preset recall facilities for house and regular visiting engineers.
Rea Sound provided a touch screen panel located in the 'mic patch' rack for the main auditorium running PL Client. This enables engineers to select pre-programmed set-ups, monitor master output levels and easily change the speaker settings to suit the room layout and/or production.
A second iDR unit provides full control of a backstage communications system, allowing for paging from three fixed positions and various stage manager stations to any of the dressing rooms, offices, dance and rehearsal rooms, and public areas across the venue. It is also possible to send audio relayed from either performance area to different zones in the building.
www.allen-heath.com
Top Related Stories
Click here for the latest broadcast news stories.