Broadcast News
09/06/2010
Sony Launch New Software Versions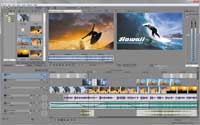 An award-winning provider of professional video and audio editing applications, have announced new versions of its consumer software product line.
Sony Creative Software's new versions will provide users with powerful yet easy to use tools for developing and editing creative digital content such as videos, music, podcasts, photos and more. Each application has been specifically designed to help anyone easily make their creative inspirations come to life. The new software lineup includes Vegas Movie Studio HD Platinum 10 video editing software, DVD Architect 5 DVD and Blu-ray Disc authoring software, Sound Forge Audio Studio 10 audio editing and production software and Acid Music Studio 8 music creation and mixing software. Along with the individual software applications, Sony has also introduced two specialised software bundles that affordably provide comprehensive production tools, including the Vegas Movie Studio HD Platinum 10 Production Suite and the Imagination Studio Suite 2.
Through extensive upgrades to the entire consumer line of products, the new Sony software collection provides users with intuitive and advanced tools to create nearly any type of multimedia project. Each software application easily imports a wide variety of audio, video or still image files for a simple and streamlined process that helps make creating content an enjoyable process from start to finish.
"More people than ever before are expressing their unique interests and creativity by making movies, music, web television and podcasts to share with friends, family and online audiences," said Dave Chaimson, Vice-President of Global Marketing for Sony Creative Software. "These new versions of Sony Creative Software products include upgrades and new features ideally suited for transforming raw footage and audio files into polished, professional final projects. The new software applications have been designed to help new users quickly get started using our 'Show Me How' tutorials, but advanced users can continue to expand their skills by discovering new tricks and techniques through powerful features that have been adapted from our professional line of software tools."
For more information on Sony's Creative Software visit:
www.sonycreativesoftware.com
(BMcN)
Top Related Stories
Click here for the latest broadcast news stories.