Broadcast News
28/05/2010
NorthernNet Paving The Way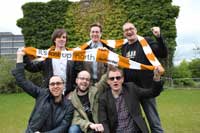 Leeds Music Trust is set to pave the way in producing the first ever remote World Cup Anthem using only NorthernNet digital technology to help it collaborate with partners over 350 miles way.
With only one face to face meeting, the charity which has helped musical heavyweights such as the Kaiser Chiefs and Pigeon Detectives rise to fame, is helping young talent to set a new technological precedent by producing a full song and video package working solely across a high speed network.
Brand new trio, The Defenders have written the song and are in the recording studios putting the finishing touches to the anthem that is setting the trend in which songs and music videos are produced.
With the film production taking place in Newcastle and final production of both song and video taking place in Liverpool, the three groups have eliminated months of face to face planning and preparation, working solely from their own patch.
The three met on NorthernNet's Northern Knowledge Bank, a website portal where digital and creative industries can build profiles, share information and collaborate on projects. With a shared passion for football and music the groups have formed their own creative supergroup without having to leave their own cities.
The 1GB NorthernNet digital pipeline available in Media Access Bureaux (MABs) across the cities has made it possible, through a high speed and secure platform, for the three to collaborate, enabling a real Northern Anthem to be developed without travelling across the regions.
The pipe was designed to help build a sustainable and powerful digital and creative hub that will help facilitate the BBC when it moves to the North and to encourage the broadcasting company to keep its £400m commissioning within the northern regions.
The full package will be finally brought together in a MAB in Liverpool and distributed online immediately to bloggers and fans who are awaiting the final results.
The collaboration of brand new talent has already impressed music heavyweights such as The Kaiser Chiefs, Pigeon Detectives and Embrace, who are backing the song to be the 2010 Unofficial World Cup Anthem.
Mercedes Clark Smith, Project Director of Northern Net Innovation and Collaboration Project said: "Leeds Music Trust has been using NorthernNet for a while and can see the benefits of security and superfast technology within music production. Using the Northern Knowledge Bank to collaborate on a project with other companies is exactly what we are trying to encourage the region's talent to do. The BBC move to the North is imminent and what Leeds Music Trust has already proved is that the North has the talent and the wiling and now the technology to secure that spend and use it smartly and creatively."
To find out more about NorthernNet, please visit:
www.northernnet.co.uk
(BMcN)
Top Related Stories
Click here for the latest broadcast news stories.