Broadcast News
25/02/2010
Digital Vision Set To impress At NAB 2010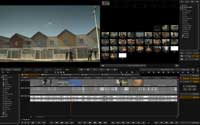 An innovator in image restoration, enhancement, colour correction and data conforming systems are gearing up for another productive year at NAB 2010 in Las Vegas.
Digital Vision work with many movie studios, television networks and post-production facilities to produce and enhance feature films, TV programmes and commercials.
Earlier this year they unveiled 2009.1- a significant new software release for the Nucoda and Phoenix platforms.
At NAB 2010 Digital Vision will showcase not only 2009.1 but also the past 12 months of product development including key software releases.
These will include:
Nucoda Film Master - the ultimate solution for image enhancement and colour grading for film and television content
Industry leading toolset including advanced tracking, best of class colour and editorial tools
Stereoscopic grading toolset, versatile monitoring option and leading edge workflow
The RED Rocket hardware accelerator card, allowing users high-speed decode and debayer of R3D media
. The latest RED SDK gives users the ability to work with the new FLU Colour Science and footage captured using the Mysterium-X sensor
Avid workflow with full integration into Unity ISIS and Interplay
Native and non destructive open EXR and High Dynamic Range grading
Telecine machine and picture control
Native camera support for an increasing array of digital cameras including: Arri, Silicon Imaging and Vision Research
Phoenix - the most sophisticated toolset for advanced image media restoration, repurposing and re-mastering. Restores film and tape content for DVD, Blu Ray, VOD or mobile media platforms. It also archives content from film or tape to be stored at any format up to 2K and enhances and transcodes file-based media for re-distribution on multiple delivery platforms
DVO tools - twenty years of experience and one of the most revered tools in post production, DVO is a renowned software toolset for enhancing, restoring and converting image media. DVO is known for presenting the best image manipulation tools and is only available on the Nucoda and Phoenix platforms
Preview of the next-generation of grain reducer tool, which features completely new algorithms including grain characteristics analysis for automated grain reduction, new motion estimation engine and a new innovative spatio-temporal filter. This next generation tool provides stunning images, virtually artefact free that retain original sharpness
Turbine - A unique approach to distributed processing
Turbine combines the reliability and scalability of a render grid with the performance of a computer cluster. It adds CPU power to the Nucoda Film Master and Phoenix workstations, improves render times and multiple file exports to ensure on-time delivery
Digital Vision will be located at booth no: SL3709 at NAB
(BMcN/BMcC)
Top Related Stories
Click here for the latest broadcast news stories.