Broadcast News
06/01/2010
Internet Sports Event Win For Digital Rapids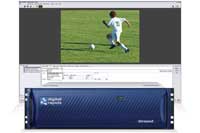 The World Cup Qualifier between England and Ukraine in October has become the UK's first-ever competitive international match available for live viewing exclusively on the Internet, with no television coverage.
Digital Rapids technology played a key role in the groundbreaking event in football broadcasting.
Online streaming of the event was provided by digital sport and entertainment specialist Perform, utilising Digital Rapids' StreamZ encoding systems and the Digital Rapids Broadcast Manager software.
International football agency Kentaro had acquired the broadcast rights to the match from the Ukranian Football Association and had sold the UK television rights to pay-TV broadcaster Setanta Sport, which went into administration last summer, leaving this key match without a UK broadcaster.
With no offers for the rights from other UK free-to-air or pay-TV broadcasters, Kentaro decided to seek the widest possible online audience, appointing Perform to market and stream the match online on a pay-per-view basis. Kentaro decided to accept a maximum of one million subscribers for the match, which accounting for multi-viewer venues equates to approximately 2.5 million viewers.
Perform is a world leader at managing, delivering and commercialising sports content in digital media and works with many of the world's leading sports associations, football clubs, media groups, bookmakers and rights holders to deliver value through premium sports content. Perform has more than 30 Digital Rapids encoders deployed in Europe and Asia.
Perform used Digital Rapids' StreamZ systems to encode SDI video inputs into live streams for viewing through Adobe Flash player technology. For encoder management, Perform used Digital Rapids' Web Services API to integrate the Digital Rapids Broadcast Manager software with Perform's live event content management system.
The Broadcast Manager software enables at-a-glance monitoring of all feeds and failover functionality for multiple StreamZ encoders, providing maximum uptime through flexible redundancy configurations with automated switchover. Upstream video router control provides automated source switching for backup encoder systems. Enabling fully automated operations, Broadcast Manager also features e-mail and Simple Network Management Protocol (SNMP) alerting, with logging of all operational events.
Howard Kitto of Perform said: "We have been using Digital Rapids encoders for several years. They provide us with a reliable platform and great quality images.
"The Broadcast Manager software allows us to manage them very efficiently, and the robust functionality it provides is critical for our coverage of such a high-profile event. We're pleased to say that this project was very successful, and Digital Rapids systems were key components."
"Live Internet streaming is an ideal distribution platform for expanding the reach of sports coverage, and took on even greater importance as the only way fans in the United Kingdom could watch this key international match live," commented Clive Vickery, Managing Director of Digital Rapids Europe.
"The exceptional visual quality, reliability and management capabilities of our solutions make them perfect for live streaming applications of this significance, and we're pleased to continue working with Perform to bring unparalleled sports streaming to their audiences."
www.digital-rapids.com
(BMcN/BMcC)
Top Related Stories
Click here for the latest broadcast news stories.