Broadcast News
09/09/2002
Film Council's Borgars outlines script development agenda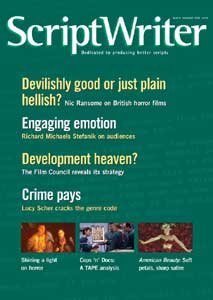 What kind of feature films does the Film Council want to develop?
Interviewed by Julian Friedmann in the current issue of ScriptWriter Magazine, Jenny Borgars, Head of Development, has revealed the names of 20 movies that she would like to have been involved in developing.
These include: Clueless, Do the Right Thing, Fight Club, The Hand that Rocks the Cradle, L'Haine, The Matrix, Memento, Meet the Parents, Misery, Ring, Save the Last Dance, Shrek, Strictly Ballroom, Swingers, There's Something About Mary, Together, Tootsie, When Harry Met Sally, 6th Sense, 10 Things I Hate About You.
With a Film Council remit to develop a sustainable British film industry, in terms of the Development Fund, Jenny says: "Development is a key area that was identified as needing to be better resourced, better skilled and given a greater level of importance and recognition within the industry as a stepping stone towards having better films made, that is, films that will perform better at an international level…
"We need to work in a focused way to develop projects better, develop people better and develop businesses better.
Jenny commented that there rarely seems to be a desire among British writers and producers to emulate the best of what exists: "There's a desire - and maybe it's natural, particularly in writers - to want to blaze a trail, to throw things up in the air and then make changes. I am a fan of original ideas and appreciate the distinction between an original idea and a familiar execution.
"We love people who have a new way into a story, but the approaches taken in many submissions have shown a hesitancy to embrace the best of the genre or the best of mainstream storytelling."
Interview excerpts by kind permission of ScriptWriter Magazine,
www.scriptwritermagazine.com
Top Related Stories
Click here for the latest broadcast news stories.