DVD Production Company Sponsors

@Voytek has three edit suites, film crews, duplication, multi media capability, graphics design and production based in house in our central London location.
DVD Production Company Companies
In Peeblesshire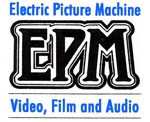 EPM has been producing corporate promotional and educational programmes since 1982. More recently the company has been creating and designing DVDs together with behind the...

...