KUDOS is one of the UK's leading corporate event management and theming service providers. We specialise in all sorts of corporate events from Christmas parties, charity fundraisers, entertaining new investors, maybe a re-branding party or just a team morale event.
Video Walls Companies
In West Yorkshire

Calibre UK is a specialist designer and manufacturer of flat panel displays, display electronics, image processing electronics and I2C Bus comms systems. Calibre's...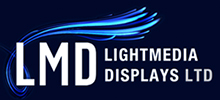 LIGHTMEDIA has grown from its inception in 1997 to one of Europe's largest and best-known LED screen hire companies. We are constantly updating our fleet of screens so that...