SFX - Supervisors Sponsors

Providing a huge range of Ingenious Special Effects for Film, TV and Live Events worldwide; MTFX have over 25 years' experience in Pyrotechnical, High Voltage, Wind, Smoke, Snow, Rain, Fire, Mechanical effects and so much more. From dry hire to bespoke technical jobs, nothing is too big or small.
SFX - Supervisors Companies
In Leicestershire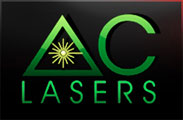 Welcome to AC Lasers Welcome to the home of high tech professional laser hire, lighting and special effects. The team at A C Laser Hire have many years' experience in...