SFX - Supervisors Sponsors

Providing a huge range of Ingenious Special Effects for Film, TV and Live Events worldwide; MTFX have over 25 years' experience in Pyrotechnical, High Voltage, Wind, Smoke, Snow, Rain, Fire, Mechanical effects and so much more. From dry hire to bespoke technical jobs, nothing is too big or small.
SFX - Supervisors Companies
In Gloucestershire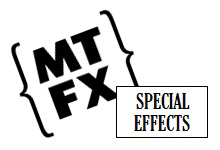 MTFX was founded in 1993 as a special effects company that was able to provide spectacular and artistic, yet cost effective solutions for the TV/Film industry. MTFX special...