Medical Services Sponsors

NATIONWIDE EVENT MEDICAL COVER
24 HOURS A DAY, 365 DAYS A YEAR
We have vast experience of providing professional medical services to the film and television industry, working alongside various high end tv and film including the BBC. No film or TV production is too big or small.

Reasons to choose us:
Fully qualified professionals
Many years of experience
Work to the highest standards
Reliable service
Quality event medical cover
Specialists in first aid, ambulance and pre-hospital care

Short Notice Event Medical Cover
Call us now on 0203 286 9993
We specialist in providing highly specialist first aid medical cover including private ambulances for a range of indoor and outdoor participative sporting events and festivals
Medical Services Companies
In West Midlands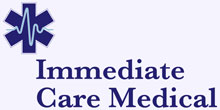 About Immediate Care Medical Services Ltd. Established in 2004 and based within the West Midlands, Immediate Care Medical Services (ICMS) offer a comprehensive range of...