Grip Equipment News
Egripment Unveils Portable Hardware Solutions
Egripment Support Systems, manufacturer of high-end camera support systems and remote broadcast solutions for the film and broadcast industries, is featuring several new compact and portable hardware solutions.
The MiniScope: A Game Changer
Chapman Leonard can't afford to sit still in such a fast moving industry. Change is inevitable as each new TV show or feature film brings new creative challenges as directors and producers push for more production value at every level.
Grip Equipment Companies
In Hertfordshire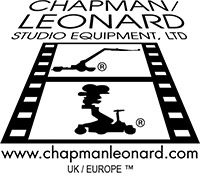 Chapman UK is the hire supplier for all award winning Chapman Leonard equipment in the UK & Europe.  Working closely with our American parent company Chapman Leonard Studio...

Located in Barnet SSE Grip Gear Ltd manufactures camera handling equipment for use by cameramen in the film and television industry. The company has been designing and making...