Broadcast Graphics News
Building Real-Time Workflows For 3D Graphics
In preparing an article about best practices for 3D broadcast graphics, we've come to realize that the term "3D" is a bit of a redundancy – since today's most visually compelling and highest-quality graphics are, by their very nature, rendered in the three-dimensional space, writes Jesper Gawell, ch
Revolutionising Virtual Set Production
Brainstorm Multimedia has spoken exclusively to Broadcast Film & Video this issue, to discuss how they are transforming Virtual Set production within the broadcast industry.
M6 Graphically Illustrates Orad's Versatility
Combining various solutions allows the broadcaster to cut costs and achieve important flexibility. Major French broadcaster, M6, a subsidiary of the RTL group, has introduced an upgrade to its graphics output using the latest Orad workflow solutions, not part of the Avid Studio Suite.
Broadcast Graphics Companies
In Cornwall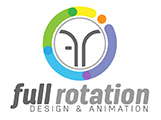 Full Rotation is a small collaborative design & animation studio offering a wide range of engaging 2D or 3D Animation & Motion Design to suit any project. From Broadcast, TV...