DVD Facilities & Services Sponsors
10dpm is a full service digital media facility. We can help you deliver your message using all forms of digital media, both online and packaged.Our duplication facility in Soho, London can turn around 1000s of DVDR per day with full colour printing.
DVD Facilities & Services Companies
In Peeblesshire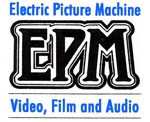 EPM has been producing corporate promotional and educational programmes since 1982. More recently the company has been creating and designing DVDs together with behind the...