Duplication Services Sponsors
10dpm is a full service digital media facility. We can help you deliver your message using all forms of digital media, both online and packaged.
Our duplication facility in Soho, London can turn around 1000s of DVDR per day with full colour printing.

DVD Duplication Newcastle
DVD Replication Newcastle
CD Duplication Newcastle
CD Replication Newcastle
Duplication Services Companies
In Sussex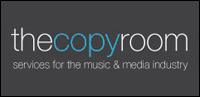 thecopyroom is a professional CD & DVD media production company. With over 12 years experience in the professional recording and mastering industry we offer fast, friendly...


Why use The Duplication Service? We offer high quality full face direct on disc digital printing with branded discs duplicated with audio or data from your master...

ICC Duplication
Unit 27 Hawthorne Road Ind Estate, Eastbourne
Tel : 01323 647880