Education - Media Courses Sponsors

Ravensbourne – An industry accredited centre of creative excellence, in North Greenwich. At our innovative university sector college, the next generation of digital media, design and broadcasting talent is born.
Visit:
ravensbourne.ac.uk
Education - Media Courses Companies
In Lancashire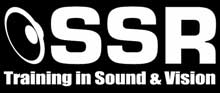 SSR
65 - 69 Downing Street, Manchester UK
Tel : 0161 276 2100
SSR is a Manchester based college providing expert technical training in the field of sound and vision. We deliver training at all levels from short courses and one-to-one...