Company:
SGT Broadcast Playout
Telephone:
+33 (0)1 64 73 74 74
Contact:
Béatrice Lennoz Gratin
Address
27 rue Alfred Nobel,
Champs sur Marne,
77420,
France

About SGT Broadcast Playout
SGT is a leading global software company providing state-of the-art media solutions for the broadcast, cable, telco and media entertainment industry. With hundreds of TV channels worldwide, customers range from local to large multi-channels premium TV stations. The award winning products VEDA provide robust and flexible broadcast TV playout automation & Media Asset Management (MAM) software and integrated solutions (channel in a box).
Find SGT Broadcast Playout in
Location of SGT Broadcast Playout
Related Companies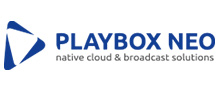 Netvue
Kingsdowne Court, London
Tel : 020 8567 2201