Telephone:
+44 (0) 208 1234 916
Address
77 Farringdon Road,
London,
EC1M 3JU,
UK

About Veset
Move your linear TV channel playout to the cloud with Veset Nimbus. Say good bye to complexity and hidden costs of hardware or virtualised playout systems.
Get a true cloud and a true software-as-a-service playout running on the AWS cloud.
Professional all-in-one playout
Launch full channel within hours
Zero client-side hardware required
No long term commitments
In-built resilience and flexibility
Self-service SaaS built for AWS
Our Company and Mission
Veset develops and markets pioneering cloud playout software-as-a-service solution. Veset Nimbus enables broadcasters to create linear TV channels and deliver them on to any linear television distribution platform, from satellite, cable to CDN. Veset's pay-as-you-go, self-service and all-in-one playout provides broadcasters, both big and small, with a quick, efficient and economic means of launching new TV channels or migrating away from cumbersome traditional hardware based solutions.
Veset Nimbus eliminates the need for upfront investments in hardware, long term commitments or hidden financing arrangements. It also reduces demands on broadcasters and media service organisations to maintain playout infrastructure in-house by leveraging world class AWS computing resources.
While lowering the total costs of operating linear channel, Veset Nimbus also delivers broadcast industry standards of reliability and security. In addition to delivering cloud technology innovation, Veset also strives to bring new business model of SaaS to the broadcast industry, by providing transparently priced, fixed monthly subscription for its playout services. Veset partners with best-in-class providers of broadcast solutions for connectivity and distribution of linear feeds worldwide.
With unique first-hand expertise in helping clients to create linear TV channels, our mission is to deliver innovative products that address the global demand for cloud-based solutions.
Twitter Feed

Facebook Feed
Company News
27/11/2017
InTheBox and Gospel TV have launched their first TV channels with Veset's pioneering cloud playout
---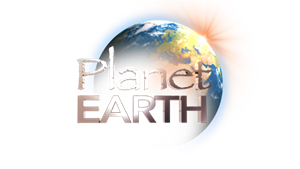 InTheBox, an international multi-genre content provider, has launched a version of its Planet Earth, a documentary channel full of mysterious, intriguing and fascinating shows on history, disasters, treasure hunting and travel each week. It took just a few weeks for the channel to be launched using Veset Nimbus, the channel creation platform, that allows Veset's customers to flexibly scale their operations and self-manage their channels using all-in-one cloud-based software-as-a-service.
Iceland-based Gospel TV is a Christian channel available at 12 million homes is now live in Iceland through Siminn. Having moved from old workflows to entirely cloud-based Veset Nimbus playout platform deployed on AWS cloud, Gospel TV is reaping benefits of improved quality of service, ultimate flexibility and plans to move its other channels to Veset Nimbus shortly.
04/09/2017
Veset Launches New Prosumer Cloud Playout Platform AT IBC
---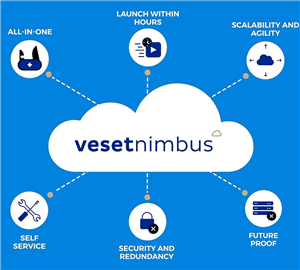 Veset Cirrus
IBC attendees are invited to test drive this new product, developed to address the needs of OTT providers looking to enable their non-traditional content owners (such as niche sport, music and general entertainment producers) to create linear TV channels with a quick and easy playout experience.
Veset Cirrus enables channel creators and owners to self-manage their content without facing the complexity of traditional broadcast playout systems. The end product is a professional-looking channel seamlessly combining live streaming and pre-recorded content with simple broadcast graphics. Drag-and-drop and looping playlist capabilities take the hassle out of traditionally cumbersome and time-consuming channel management processes.
Gatis Gailis, founder and CTO of Veset commented: "With the democratisation of video creation and distribution through social networks we believe there is an important place for a new way of launching and managing 24/7 channels to be distributed via OTT. What's needed is a very simple platform for those 'prosumers', i.e. creatives who have neither the expertise nor the resources to manage complex and costly broadcast structures but who nevertheless need to run their 24/7 channels to professional standards."
Veset Cirrus will be integrated into Freedocast Live Streaming Platform by YuppTV. That recently launched platform is designed as a one-stop-solution providing cloud transcoding and adaptive bitrate streaming for best viewing experience in low bandwidths, real-time analytics, viewer interactivity with chat moderation, ad-integration, pay-per-view, geo-blocking & password protection for control of events.
Affordable and Scalable 4K from Veset Nimbus
Veset Nimbus delivers true cloud playout for professionally managed television channels, with integrated audio, video and graphics functionality combining ingest, media asset management and playout in an all-in-one channel creation solution.
At IBC 2017 we will demonstrate Veset Nimbus 4K true cloud playout which delivers high-quality H.265 50 fps ultra high definition (UHD) channels based on scalable and flexible SaaS solutions. Veset Nimbus is deployable on AWS, other public clouds and also as an edge solution, depending on customers' priorities and distribution preferences.
Igor Krol, CEO commented: "The costs and capital investment risks associated with 4K channel creation and distribution has deterred growth in the market despite the growing availability of content. With our H.265-based solution, Veset Nimbus kills two birds with one stone: we provide an opportunity to create new channels in ultra high definition while removing the risks based on significant investments alongside unproven business concepts. Our playout solution can deliver 4K ranging from basic 25fps YouTube channels to a fully-fledged 50fps feed distributed to satellite DTH."
He also added: "Despite misleading marketing by some technology vendors and even reputable managed service providers who use their in-house private datacenters to offer "virtualized" edge playout, our assertion is that Veset Nimbus remains unique to the industry, thanks to its ability to deliver efficiency through technologies available with true cloud such as AWS. Indeed linear television's prospects of survival will surely benefit from the adoption of new, cutting edge, cloud-friendly solutions, rather than clinging to the previous century's outdated software-hardware approach, hastily ported to private datacentre, and posing as cloud playout."
For further information contact:
Veset: Lucy Globa, +44 208 1234 916, Email: lucy.globa@veset.tv
YuppTV: Pooja Diwan, +91 40 23555055
Reserve your appointment for a demo on IBC 2017 , Stand 8.D31, September 15-19.
26/05/2017
Yupp TV, a leading OTT platform, launches a new film channel powered by Veset Nimbus
---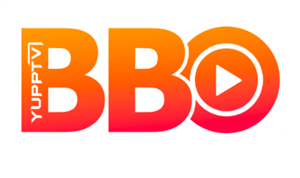 BBO is a movie channel in Hindi language available 24/7 in the United States, Canada, Australia, United Kingdom, Malaysia, Europe, New Zealand, Japan, Middle East and UAE.
Read more at
Veset website
08/05/2017
Veset has started a project with VRT Sandbox
---

Veset has started working with VRT's KetNet channel as part of a project led by Sandbox VRT, a joint venture set up between Belgian public broadcaster VRT, EBU and iMinds to boost media innovation. The project focuses on excelling transition from traditional hardware and SDI-based broadcast workflows to IP and cloud technologies.
Read more at
Veset website
19/04/2017
Nimbus is the most nimble of playout services
---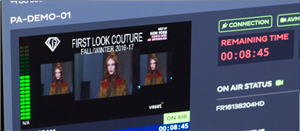 Veset was among the first companies to identify that cloud-based playout would provide a far more flexible and cost efficient means to create, run and maintain TV channels.
To that end, Veset began providing cloud-based playout services for linear TV channels in 2011, and has since leveraged its experience by developing and launching "Nimbus Cloud Playout", a software-as-a-service (SaaS) platform that enables broadcasters and playout service providers to launch channels with ease.
The SaaS business model adopted by Veset for Nimbus has benefited forward-thinking broadcasters such as FashionTV, the leading international fashion and lifestyle channel; GinxTV, a leading eSports channel and DaVinci, the global educational channel, among many others. Channel clients are now able - safely and securely - to launch new channels, or replace existing playout systems, with no upfront capital investment as per traditional playout technology. By applying the full range of benefits brought by SaaS technologies and cloud infrastructures, Veset delivers solutions that address the ever-increasing demands for cost-effectiveness, operational flexibility and ultimate reliability.
Looking to the future, Veset has already successfully tested 4K channel delivery. Veset's client Fashion TV, according to recent news reports, added 12 new thematic channels that will be made available in SD, HD, UHD and VR formats for OTT, IPTV and mobile delivery, a number of which are run on the Veset Nimbus platform.
Nimbus Cloud Playout is typically deployed for such roll-outs as it provides all of the elements required to create a broadcast grade TV channel, added to an open design and APIs that allow for smooth integration with other market-leading specialist broadcast solutions (IP transport, external MAM, QC, etc). Once a channel is created on Nimbus Cloud Playout, MPEG TS UDP, HLS, MPEG DASH, or RTMP feeds can be delivered efficiently and securely to any delivery platform.
Veset Nimbus combines a professional, highly resilient solution with the ultimate flexibility and scalability inherent to public cloud platforms. One key objective is the reduction in the total cost of launching and operating a linear channel while eliminating the need for investment in hardware, maintenance, and operating support, be it in-house or via third parties.
The latest version of the Veset Nimbus solution makes channel creation even easier by enabling broadcasters to focus on content creation and acquisition, removing the multiple headaches of operating in-house hardware or buying expensive third-party playout services.
01/03/2017
IABM Members Speak - Veset
---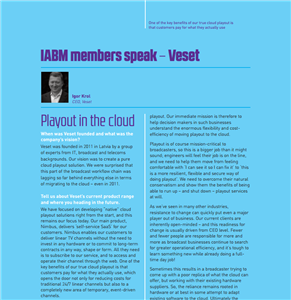 CEO of Veset talked about industry trends, advantages of cloud playout and what differentiates Veset Nimbus from other solutions on the market. To download the full PDF
click here
06/02/2017
Veset Will Feature Nimbus Cloud Playout Solution at NAB 2017
---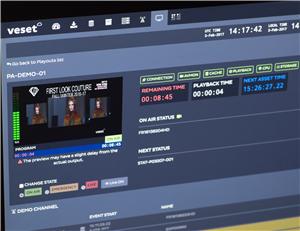 LAS VEGAS, NAB Show 2017, Booth N5931– At NAB 2017, leading broadcast technology provider Veset will feature Veset Nimbus™, a new platform for versatile, powerful, and entirely cloud-based all-in-one playout that also includes powerful new tools for live event management.
By leveraging the power and versatility of Amazon Web Service's S3 and EC2 as its primary cloud storage and computing resource, Nimbus offers content owners unlimited possibilities to create, and manage linear channels – all with no need for investment in client-side hardware.
The self–service capabilities of Nimbus enable Veset clients to launch new channels in a matter of hours, create pop-up channels for events very quickly, or establish cost efficient disaster recovery solutions.
Veset's approach of offering Nimbus software as a service substantially reduces upfront investment as well as overall operating costs by eliminating the need for client-side engineering support.
By running in the cloud, Nimbus enables channels to be created, run, and maintained from anywhere in the world. Nimbus cloud playout adheres to key industry standards and workflow processes while enabling users to take full advantage of the scalability and flexibility of cloud-enabled technologies.
Veset Chief Executive Officer Igor Krol said, "There are already more than 500 million households worldwide watching channels created by our playout and delivered through satellite, cable, IPTV and CDN distribution platforms. The advances we continue to make in its power and usability keep it far ahead of any similar service on the market today.
"As one of the new features for NAB, Veset Nimbus will boast fully built-in integration with Zixi-enabled broadcast-grade IP video delivery solutions, which offers cost efficient delivery of linear feeds to distribution platforms globally."
Veset CTO Gatis Gailis adds, "Aging, loosely defined channel-in-a-box and edge solutions just don't cut it anymore. Despite seemingly endless efforts by service providers and technology vendors to repackage old hardware and GPU dependent solutions and sell them as cloud solutions, clients can now see through the smoke and mirrors created by marketing and recognise that new technological solutions, built ground up for the cloud, deliver the full benefits of the cloud. Ultimately that translates into a cost effective and future-proof platform for linear television."
Nimbus and other Veset products and services will be fully demonstrated at NAB Show 2017, Las Vegas, 24-27 April on Booth N5931. For more information, visit www.veset.tv.
23/01/2017
DriveIN Movie Channel Now Available in France
---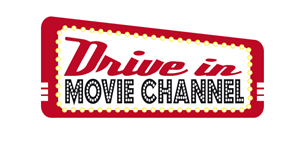 Veset Nimbus cloud playout-powered DriveIn Movies Channel is now available in France to Bouygues Telecom's 2 million BBox TV subscribers (on Channel 129) as part of the Premium Basic package. DriveIn Movies is a brand new vintage cinema channel delivering a variety of genres: from classics of the 50s, 60s and 70s, to the experimental films of the 70s; from the stars of the silent era (Rudolph Valentino, Mary Pickford, Lon Chaney, Douglas Fairbanks) to the legends of American comedy (Buster Keaton, Bob Hope, Laurel and Hardy), and from the great Hollywood dramas to classic science-fiction and horror flick B-movies from the likes of Roger Corman.
04/01/2017
Fashion TV Launches Six New Experimental Thematic TV Channels Using Veset Nimbus Cloud Playout
---
Fashion TV launches six new experimental thematic TV channels (Midnite Secrets, F-Men, Hair & Makeup, Fashion Films, Photographers, and Fashion Weeks) leveraging unique capabilities of Veset Nimbus cloud playout.
Where traditional playout solutions would have made task technically, financially and operationally unattainable, true cloud playout by Veset makes it easy and fast to launch new channels. It allows contents owners to experiment, weed out losers and identify new winners - opening new monetisation opportunities without exposure to costs and risks of technology investment and maintenance
20/10/2016
Veset Wins Rising Star TVB Award 2016
---

We are pleased to announce that Veset has won the Start-Up/Rising Star award in the Hall of Fame category by TVB Awards!
A new Hall of Fame initiative has been created to honor the individuals, organizations, and technical advancements that have helped – and are helping – to shape the broadcast and media technology sector as we know it today. Acting as the centerpiece of the awards program, the Hall of Fame awards recognize three specific areas: innovation and R&D award for outstanding technical achievement; rising star award; and the prestigious lifetime achievement award.
About TVB Awards:
TVBAwards is the annual showcase of the industry's success stories. More than 200 media and entertainment industry professionals gather for the year's Gala Ceremony, celebrating those pushing the boundaries in content production, management and delivery.
Awards are judged by a panel of engineers and industry experts on the criteria of innovation, feature set, cost efficiency and performance in serving the industry.