Company:
Tony Sinnett Puppet Maker UK
Address
London UK,
BN5 9HG,
UK

About Tony Sinnett Puppet Maker UK
I am a puppet-maker and puppeteer
I specialise in wooden carved puppets. I have been making and performing Marionettes, Shadow and Bunraku (table top) puppets for the last twelve years. I have worked on Television, Theatre and Film projects as well as building puppets for professional entertainers, magicians and collectors.
I am also available as a freelance puppeteer, happy to work on my own or as part of a team.
I teach woodcarving, puppet-making and performance workshops both privately and to education establishments.
I also create puppet videos and have a small purpose built theatre in my workshop where I can film shorts and music videos.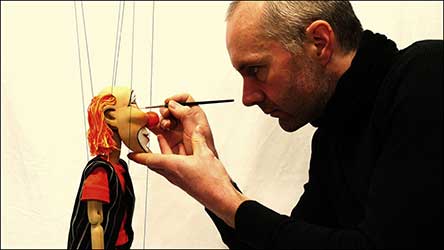 Puppet Building
I specialise in carving wooden puppets, marionettes mostly although I also enjoy making wooden hand puppets, bunraku (table top) and shadow puppets.
I love the aesthetic of wooden puppets and they also have a great combination of strength, durability, weight and balance but are perhaps not so suitable for larger puppets of 36 inches or more unless the parts can be hollowed out.
I can work from your designs or can offer a full package service of character design, construction and performance.
Just get in touch and I'll help bring your ideas to fruition.
Puppeteering
I have been a professional puppeteer for over 15 years and am available on a freelance basis to work on my own or as part of a team.
I can advise you on all aspects of marionette performance and can put together a team of puppeteers if needed for larger or more complex projects.
I have a wealth of live, filmed and chromakey experience.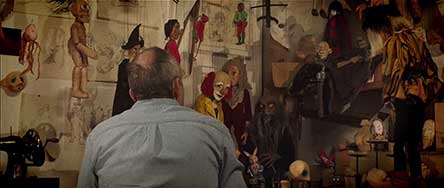 Marionette - Hire
I have a range of marionettes ready for you to hire if you can't afford to commission an original puppet. These marionettes have been used for set dressing, photo-shoots, theatre productions, school plays, education and more.
I can supply short or long term hire and can also build marionettes specifically for you to hire, however I will need plenty of notice if this is to be achieved.
Ex hire marionettes can be purchased or new puppets reproduced from these designs.
Please get in touch for hire rates.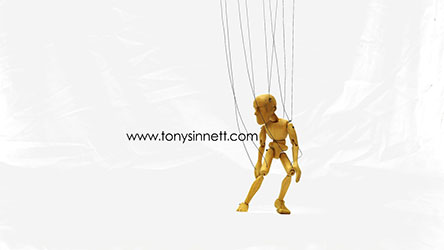 In my Workshop...
I run courses for marionette carving and construction. If you are able to get to Henfield (West Sussex - England) then I can teach you how to make great carved puppets with courses from 1 day to 1 week in length.
I only have room for a maximum of three students at any one time but normally lessons are arranged as one on one so you get the best value for money.
Find Tony Sinnett Puppet Maker UK in
Location of Tony Sinnett Puppet Maker UK

Multi-Award-Winning Prop and Puppet Makers
From model makers, scenic artists, pyro technicians, carpenters, sculptors, metal workers… we've got the skills to make your project a reality.