Address
Heathlands Close,
Twickenham,
London,
Middlesex,
TW1 4BP,
UK

About TCS
Litepanels introduce lighting sources that are cool to the touch, portable, self contained and cable free. They offer infinitely dimmable 5600K or 3200K output – with virtually no colour shift – by simply turning a knob. And a wide range of power options, from snap-on batteries to AC adaptors and from DV camera to AA batteries. Litepanels is an amazing new kind of lighting system.
This revolutionary lighting brings the advantages of Litepanels' unique proprietary light – emitting diode technology to professional production lighting. Litepanels are painstakingly designed to exceed the highest professional standards. Their luminous, soft, directional output is praised by Lighting Directors, Still Photographers and Cinematographers alike. Cool, silent, dimmable and ballast free, they offer a multitude of benefits for work Studio or on location.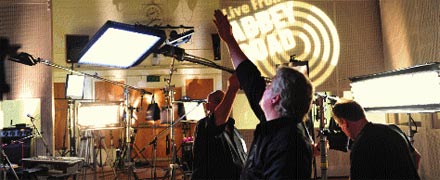 Beautifully suited for today's eco-minded focus, this new source is over three times as power efficient as conventional lights. Lightpanels' proprietary LEDs draw just a fraction of the power of tungsten and have a lamp life of over ten years in continuous use. Litepanels lack the hazardous materials used in fluorescent lighting.
There is a light for every need and some that work double duty. If you need variable colour control, with the new all in one 1x1 bi-colour, you can dial up any colour from cool white to warm white tungsten. And the ground-breaking 1x1 bi-focus crossfades between two sets of daylight LEDs to achieve infinitely variable flood or spot output.
"I found the Litepanels very useful on 'Live From Abbey Road'. They gave great control of the output, with the various lens configurations, Super spot, Spot & Wide we could place the unit where we needed it in the tight space available, to achieve the best lighting and the best shots. As well as creating a good lighting effect, the litepanels also looked good in shot. The director and producer were both very happy with the results, even the band commented that the light emitted by the units was very unobtrusive."
Geoff Harrison – lighting cameraman