Company:
Broadcast Exhibitions Dates-Broadcast Exhibiton Showplanner
Contact:
Richard, Noel & Aaron
Address
Broadcast Events Dates,
UK

About Broadcast Exhibitions Dates-Broadcast Exhibiton Showplanner
The Broadcast Film & Video Broadcast industry showplanner 2017 highlights all the broadcast exhibition dates for the year on an international basis.
The Broadcast Exhibition/Event Organiser/Showplanner will  provide a comprehensive guide of relevant industry events giving dates and venues of broadcast exhibitions and events in Europe, Asia, Australia, Africa, Japan, China and America. To view these events, please click on the Broadcast Industry Exhibition Showplanner.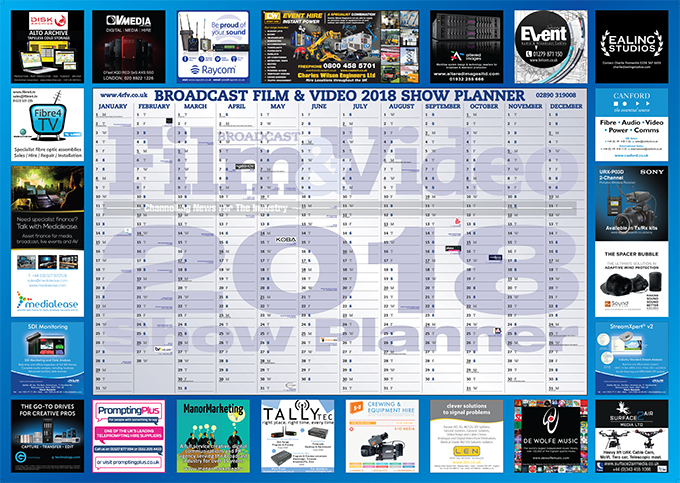 For an overview of upcoming Broadcasts Exhibitions, please read below.
This Showplanner is intended to assist you when searching for industry events taking place around the world. Ideal for checking dates & venues for Broadcast Exbitions
Cabsat
14-16 JAN 2018 Dubai UAE
www.cabsat.com
Integrated Systems Europe
www.iseurope.org
6th-9th Feb 2018 Amsterdam
BES India
26th-28th February 2018 New Delhi India.
https://www.besindia.co.in/
BVE London UK
27 FEBRUARY - 1 MARCH - EXCEL LONDON 2018
www.bvexpo.com
TV Connect
www.tvconnectevent.com
9th & 10th May 2018
Olympia Exhibition Centre,
London
NAB
Conferences April 7th - 12th 2018
Las Vegas Convention Center, Las Vegas, Nevada USA.
www.nabshow.com
KOBA Show
www.kobashow.com
15th - 18th May 2018 Seoul, Korea
Broadcast Asia
26th May - 28th June 2018 Singapore
www.broadcast-asia.com
Cinegear
LA USA
31st May - 3rd June 2018
www.cinegearexpo.com
CEBIT
www.cebit.de
11th - 15th June
Hannover Germany
BIRTV
www.birtv.com
BIRTV 2017 August 24th-26th Beijing China
IBC
Exhibition 14-18 SEPTEMBER 2018
RAI, Amsterdam
www.ibc.org
Broadcast India
www.broadcastindiashow.com
EXHIBITION 12th-14th Oct 2017 Mumbai India
SMPTE 2017 Annual Technical Conference & Exhibition
Hollywood, California
24 - 26 October 2017
www.smpte.org
Caper
www.caper.org.ar
October 25th -27th 2017
Argentina
SATIS
www.satis-expo.com
November 8th - 9th, 2017
Paris France
Find Broadcast Exhibitions Dates-Broadcast Exhibiton Showplanner in
Exhibitions & Trade Shows Sponsors

IBC2018 - RAI Amsterdam
Conference: 14 - 17 September 2018
Exhibition: 14 - 18 September 2018

If you are a supplier or manufacturer then the BSC Expo offers the most cost effective platform available anywhere to promote your products and services to the most influential decision makers and purchasers in the UK production industry.