Address
Hurlingham Business Park,
Cringle Street,
London UK,
Battersea,
SW6 3DU,
UK

About RT Software
RT Software is a leading provider world wide of real time graphics solutions. The product set spans CG, template driven 2D and 3D graphic overlays, election and news room graphics, specialist sports graphics and virtual studios. From its beginnings as an off shoot of the BBC 3D graphics Department in 2004, it now has installs from Iceland to New Zealand and includes the BBC, Sky Sports, Fox Sports, NBC, and many other Tier 1 broadcasters in its growing customer base.
RT Software In The News
RT Software To Demo New 4K UHD Graphics Solution
RT Software has announced it will demonstrate its new 4K UHD graphics solution at CABSAT 2016. At the show, booth ZL2-21, the company will have its full range of products on show including: ...
Related Companies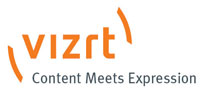 VizRT
1st floor, Building B, London UK
Tel : 020 8280 0410



Pixel Power
College Business Park, Cambridge
Tel : 01223 721000