About Video Assist
Video Assist Limited is official UK supplier of Transvideo products and accessories.

As an official supplier to BBC - ITV and BSkyB, Video Assist Limited benefits from over 15 years experience within in the UK television and film industry.

Servicing and repairs
Servicing and repairs for Transvideo monitors and camera accessories:
The approved UK service agent for Transvideo monitors with over 10 years experience.

Quotations for all work carried out


New and replacement monitor housings fitted


New front glass for monitors


Full range of spares available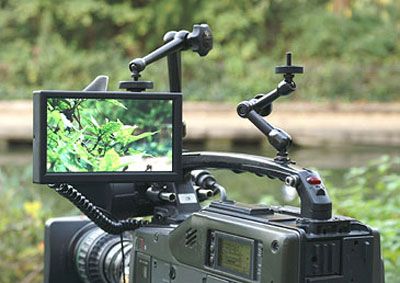 Contact us for a quotation
StarliteColor - 4' SD monitor
910TS0055 4" StarliteColor
914TS0006 SuperBright option
910TS0058 VirtualHorizon option
918TS0078 Slide for Starlite
918TS0087 Sun&Night Hood for 4"
918TS0109 Raincover for 4"
StarliteDV - 4' SD DV monitor
910TS0065 4" StarliteDV
914TS0006 SuperBright option
910TS0058 VirtualHorizon option
918TS0078 Slide for Starlite
RainbowII - 5' SD monitor
910TS0032 RainbowII
910TS0024 RainbowII Anamorphic
914TS0006 SuperBright option
918TS0085 SpiritLevel for Rainbow
918TS0082 Sun&Night Hood for 5"
918TS0035 Raincover for 5"
RainbowXtreme - 5' SD monitor
910TS0063 RainbowXtreme
914TS0006 SuperBright Option
910TS0070 Xtreme Frameline Option
910TS0071 Xtreme Horizon Option
918TS0085 SpiritLevel for Rainbow
918TS0082 Sun&Night Hood for 5"
918TS0035 Raincover for 5"
RainbowII 16:9 - 6.5' SD monitor910TS0035 RainbowII16:9
914TS0006 SuperBright option
918TS0085 SpiritLevel
918TS0099 Sun&Night Hood for 6.5"
918TS0048 Raincover for 6.5"
RainbowII 16:9 RF - 6.5' SD monitor910TS0043 RII RF Rx
910TS0041 RII RF Tx
918TS0134 Remote handle
914TS0006 SuperBright option
918TS0085 SpiritLevel
918TS0099 Sun&Night Hood for 6.5"
918TS0108 Raincover for 6.5"RF
918TS0125 Battery back / pro battery
918TS0126 Battery back / DV batteries
RainbowUHF - 6.5' SD monitor910TS0062 RainbowUHF L/BG/DK/I
910TS0069 RainbowUHF M/N
918TS0134 Remote handle
914TS0006 SuperBright option
918TS0085 SpiritLevel
918TS0099 Sun&Night Hood for 6.5"
918TS0108 Raincover for 6.5"RF
918TS0125 Battery back / pro battery
918TS0126 Battery back / DV batteries
Walnut wood remote handle
CineMonitorIIIa - 6' SD monitor
911TS0030 CineMonitorIIIa
914TS0006 SuperBright option
918TS0086 SpiritLevel
918TS0082 Sun&Night Hood for 6"
918TS0034 Raincover for CineIII
CineMonitorHD6 - 6' HD monitor
917TS0016 CineMonitorHD6
917TS0018 HR VirtualHorizon
917TS0019 HR Frameline
917TS0021 Calibration module
917TS0022 Focus helper
917TS0023 Advanced Measurement tools
918TS0135 Sun&Night Hood
918TS0136 Raincover
918TS0137 Battery Back (Standard V-Lock)
CineMonitorHD6 SBL
CineMonitorHD 3DView
CineMonitorHD8 - 8' HD monitor
917TS0017 CineMonitorHD8
917TS0018 HR VirtualHorizon
917TS0019 HR Frameline
917TS0021 Calibration module
917TS0022 Focus helper
917TS0023 Advanced Measurement tools
918TS0142 Sun&Night Hood
918TS0141 Raincover
918TS0137 Battery Back (Standard V-Lock)
TITAN904TS0102 TITAN PACK 1 (1Tx + 1Rx)
904TS0103 TITAN PACK2 (1Tx + 2Rx)
Hermes and Pegasus
Hermes
904TS0001 M-N
904TS0002 L/BG
904TS0003 MODULUS/BG