About Babycad
Easily visualize your trade show, exhibit, and showroom ideas.What is Babycad?A Revolution In Customer Service
Babycad users respond and engage with their customers in record speed. By the time your competitors arrive on the scene with an old fashioned proposal, you'll be tying up the details with your new customer and the dust will already be settling.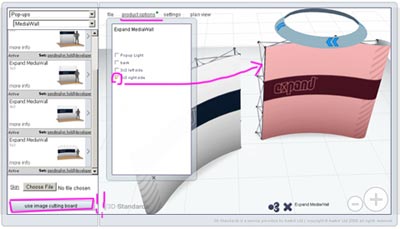 An Online Trade Show Booth Design tool
Babycad is the latest web tool for exhibition professionals. It lets you play with design ideas in a web page. It's free and incredibly easy-to-use. Babycad concentrates on enabling booth designers to respond rapidly to enquiries. In today's 'instant gratification' marketplace, the positive impact Babycad will have your businesses can be profound.
Online Exhibition Design Software
Babycad is
this website
. We've brought together the award winning 3D-Standards™ exhibition design software with the Babycad set of virtual 3D exhibition products. Each model is carefully prepared so you can just snap components together like Lego in your web browser.
The best way to understand the technology is to jump in for FREE! : Design your own trade show booth.
Endorsed by Exhibition Industry Manufacturers
3D-Standards™ is used around the world on manufacturers' websites, with a single 3D-Standards™ account (check pricing) you can access your professional features (such as: save and publish in 3d) not just at Babycad, but wherever you see the 3D-Standards application.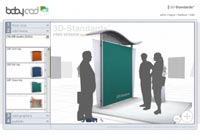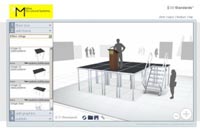 What can it do for me?
Rapid 3D Images To Reassure Your Customers
Babycad uses the award winning* 3D-Standards™ online 3D exhibition design software. 3D-Standards™ can automatically publish your trade show booth design to a unique 3D web page (called a 3D-Snapshot example).
Babycad allows you to make and publish impressive graphics within minutes from an enquiry!
Just send your customer the link, and they can interact and explore your stand design in 3D. They will be stunned at the speed and quality of service you provide!
These hyper-fast professional quality 3D images will provide your customer the reassurance they require to make instant purchase decisions.
Save Time and Save Money
Babycad saves you time on training, and frees up your existing CAD design team. You also save time and money on software updates and deployment: Babycad requires no installation, has free updates, fanatical support, and works in any browser.

Babycad shortens sales cycles by helping your customers and clients to make rapid decisions.

Try it for free and find out for yourself what the buzz is about before your competitors beat you to it.

So what's the catch?
We believe you will quickly see the potential this application has for your business.

Outputting PDF images is one thing, but if you want to publish your design as a 3D snapshot, you'll need a 3D-Standards account.


The monthly cost is very low, and you can sign on and off whenever you want.

Exhibitions & Trade Shows Sponsors

IBC2018 - RAI Amsterdam
Conference: 14 - 17 September 2018
Exhibition: 14 - 18 September 2018

If you are a supplier or manufacturer then the BSC Expo offers the most cost effective platform available anywhere to promote your products and services to the most influential decision makers and purchasers in the UK production industry.