Address
33 Princes Street Stone,,
Stone,,
Cinderford,
GL14 2JX,
UK

About SM Fireworks
About
Formed in 2007  we are a small friendly pyrotechnic display company offering the personal touch. With over 30 years experience in the field we can meet all your pyrotechnical requirements. From a small family event in your own garden to a citywide rooftop display and indeed anything inbetween.
For a more detailed look at some of the pyrotechnic effects we'd be pleased to display for you, take a look at our
gallery
. If you like what you see then feel free to
contact us
.
Stage Pyrotechnics
From a school play to a full pyrotechnical display for your favourite rock band. We can offer the full technical support your event requires.
Our team will discuss your project and then suggest which effects will deliver the best results.
Our services  include safety briefs for the actors and crew, and our technicians are flexible enough to adapt to any situation or change that arises.
Film / Music Video
We have now developed a special effects team for television and film works. This team is able to supply all types of effects for any set you require, whether it is as simple as a gas burner for continuity during fire scenes or a full blown action spectacular with gunfire and explosions throughout.
With our own development team we can effectively design solutions for any pyrotechnical requirements you may have and will liaise completely from initial concept through to final shoot.
SM Fireworks is able to work with all your actors and production team and make the most of your budget, effectively giving you more bangs for your buck.
Coming shortly we will be offering armoury services supplying high quality full action replica firearms.

Contact us for rates and availability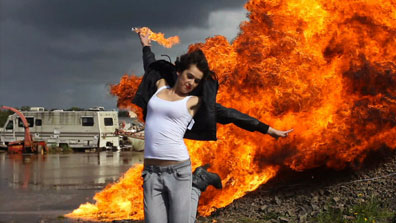 Battle Simulation
With access to a complete range of effects SM fireworks can safely and effectively turn the smallest re-enactment / training exercise into the hell of front line combat. From bullet acclimatisation effects (mainly noise), to an inner city riot with petrol bombs and exploding cars, to a full blown artillery barrage, we can create the required effects and deliver them safely.
We will ensure all pyrotechnics and ground devices are mapped and all organisers and troops are aware of the relevant safety aspects prior to the event/exercise beginning and our technicians will remain on site until the last effect has been detonated and the site cleared of all spent and live pyro.
We are currently in the process of sourcing a supply of realistic full action replica weapons for use on set or for re-enactment use. Please contact us to discuss your requirements.
SFX - Pyrotechnics Sponsors

Providing a huge range of Ingenious Special Effects for Film, TV and Live Events worldwide; MTFX have over 25 years' experience in Pyrotechnical, High Voltage, Wind, Smoke, Snow, Rain, Fire, Mechanical effects and so much more. From dry hire to bespoke technical jobs, nothing is too big or small.