Company:
VideoSys Broadcast
Address
Unit 2 Forrest Barn Farm,
Turners Hill Road,
West Sussex,
Turners Hill,
RH10 4QH,
UK

About VideoSys Broadcast
Videosys Broadcast offers a range of products and services to the Television, Film and A/V industries including:
UK distribution of Cobham RF Products
Bespoke system design and integration
Engineering consultation

Videosys is the UK distributor for Cobham Broadcast's range of transmitters, receivers and antennas. Cobham products are at the forefront of wireless communications. Videosys provides customers with both pre and post sales advice, accompanied with full technical backup and support.
The Videosys product range comprises Camera Control and RF over Fibre solutions which augment the Cobham product range. Our products address many operational shortcomings experienced through twenty years of onsite operation.
The Camera control system enables customers to utilise the camera manufacturers standard control panels (RCP's) to control four cameras over a single radio frequency operating between 403-474MHz. The fibre antenna extension solution allows the antennas to be placed up 1700m away and camera data to be sent back up the SMPTE cable, facilitating the need to rig only one cable.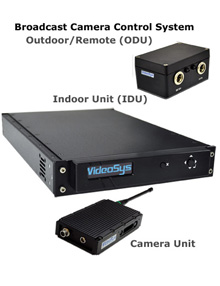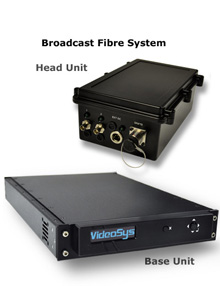 VideoSys Broadcast In The News
Find VideoSys Broadcast in
Location of VideoSys Broadcast
Broadcast Equipment - Manufacture & Sale Sponsors

Mark Roberts Motion Control is a leading designer and manufacturer of robotic motion control solutions. From live broadcast and film productions to product photography, we offer our clients the ability to capture their visions via a groundbreaking suite of hardware and software.
Television Camera support. We offer a full range of Studio & OB pedestals as well as lightweight and heavyweight Tripods, Pan & Tilt Heads and Dolphin Arm Jibs. We also have a 'Merlin Arm' Crane in stock.
We are specialists in buying and selling all the major brands of professional new or used video and broadcast equipment. We purchase your old equipment and pay cash for bundles of items or single items of audio-visual equipment.