Contact:
Jeremy Boanson James
Address
66 Roy King Gardens,
Kingswood,
Bristol,
(Grip Equipment) South West England,
BS30 8BQ,
England UK

About Daguerro Ltd
About us
We have worked with and manufactured grip equipment for some of the most highly regarded specialist camera men, award winning production companies, broadcasters and have worked worldwide.
We have designed, developed and manufactured Grip equipment ranging from a 60ft carbon fibre camera crane for feature films to underwater still housings to camera and lens plates. For more information see our products page.
Formed in 2002 Daguerro has worked with cameramen and women, production companies, film producers and broadcast companies helping them to achieve and maintain their high standards of production by making their grip equipment work how they want it to.
We like to discuss in person exactly what you want to achieve or what exactly your idea is. It's then we go away and formulate the design. Weather it be for your own use or an idea you have for the open market.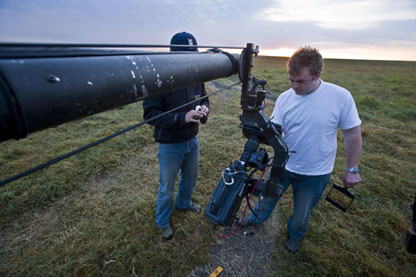 Products
We design & manufacture grip equipment for stills production, motion picture, documentary and commercial productions. Credits in BBC Natural World series.  
Camera plates, brackets and mounting assemblies
Cable and track dolly components
Camera crane components and fixtures
Underwater camera housings
Remote camera fixtures
Replacement part manufacture
PELI case modification & adaptation
Complete product design
2D & 3D CAD design
Precision manufacture, machining & assembly
Please call or email to discuss what you want and what you require.
We don't have a sales department! And we don't only deal with companies!