Company:
Cine to DVD Transfer
Address
Portland Film Studios,
21 Portland Square,
Bristol,
BS2 8SJ UK,
UK

About Cine to DVD Transfer
Cine
to DVD (formerly British Film Transfers) is one of the longest established Film Transfer Studios in the UK. We are not just another internet supplier. For over 20 years our Studios have converted
Cine to Video
and now
Cine to AVI
and
Cine to DVD
, CD and other editable movie formats. We have an enviable reputation as being fast and affordable. We have no hidden extras. Even delivery is Free.
We deal with 'all' formats, sizes and speeds of film so no more 'sorry we can't do that type' We transfer
super8, 8mm
and
16mm
. We DO NOT subcontract this work out, in fact most of our transfers comes from other TV and video studios for their clients. So if you use another transfer company, the chances are your cines will end up being sent to us. You can do absolutely everything online then print off your order and send it in with your movie films or you can phone your order through. We even collect your films from your home or work. See our write up on Cinema Electronics Review. ''
UK's No.1 for Super8, 16mm and 8mm film transfer to DVD, AVI, QT and MPEG.
''
Transfer Cine to DVD
Transfer Cine to AVI
Simple honest Pricing:
£1 per minute of film
Simple Flat Pricing:
£1.50 per minute of film
Transfer Cine to Video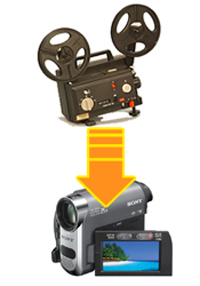 Simple Fair Pricing:
£1 per minute of film transferred
Find Cine to DVD Transfer in
Location of Cine to DVD Transfer