Company:
Easy Replication
Address
63A Black Street,
Airdrie,
ML6 6LU,
Scotland

About Easy Replication
easyreplication
With easyreplication, it's so simple and trouble-free. If you're looking for a CD and DVD replication company that offers reliable service, low costs, quality products and a fast turnaround you have found the best company to contact. We meet and exceed your desired CD Replication and DVD Replication services and will bypass your expectations. At easyreplication, we have the goal to give the customer service that will be above par performance. We fully understand the requirements of our clients and offer them the preferred optical media solutions.
If you're tired of dealing with replication companies who deliver late, offer low quality products or possibly the staff are not responsive to 'you the customer', contact easyreplication and we guarantee you'll be extremely satisfied with the service and products we offer.
A host of services to choose from, whether you are looking for making special packaging, sierra boxes, folding boxes, or are on quest to get quality DVD inlays, CD covers, CD booklets, manuals, Digipacks, slipcases and multi products, we create it all. Leveraging creativity, innovative skills, superior technology and competent team, we offer paramount quality DVD and CD replication. We have assorted sophisticated technique and state-of-the-art equipment to replicate excellent CDs and DVDs.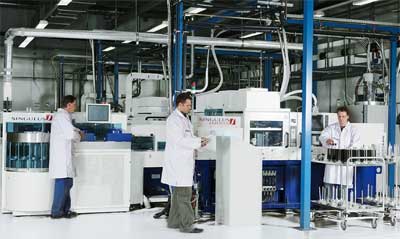 Our proficient services are highly useful for musicians, businesses, institutions, associations, and a host of other domains. With easyreplication, quality CD and DVD Replication solutions are guaranteed to give mark to the identity of your product or service. Quality at a low price and within the stipulated timescale! What more you can ask for? Contact easyreplication today and benefit from our experience, quality products and fantastic value CD and DVD Replication services. Call us now and find out for yourself… this is the easyreplication approach, you will not be disappointed!
Location of Easy Replication
DVD CD Duplication & Replication Sponsors
10dpm is a full service digital media facility. We can help you deliver your message using all forms of digital media, both online and packaged.
Our duplication facility in Soho, London can turn around 1000s of DVDR per day with full colour printing.

CD Duplication
DVD Duplication
BluRay Duplication
CD-ROM Replication
Memory Stick USB Copying
Video Encoding
Coporate Branding of Media

AG Studios is located in St Albans and is a professional Video and Photography facility offering a wide range of services including corporate video photography, film and video editing as well as duplication services.
01727 762300