Company:
Dischromatics Ltd
Address
Unit 20 Abercarn Industrial Estate,
Abercarn,
Newport UK,
NP11 5EY

About Dischromatics Ltd
CD Replication, DVD Replication and Blu-ray Replication
Created from glass master produced by the largest Manufacturer of replicated discs in Europe. Dischromatics is a UK partner of Sony DADC and can Deliver free throughout the European Community. Replicated discs are more economical for 1000 plus but we will supply from 500-of, but we advise all our customers that for volumes up to 1000, it is more economical to have CD Duplication or DVD Duplication.
CD Duplication, DVD Duplication, USB Duplication,
CD Printing, DVD Printing and USB Printing
Copied and printed in Dischromatics own suite of professional Duplication and Printing equipment, CD and DVD and USB Duplication can be supplied from small runs and with a quick turn around. This company is extremely flexible and treats all customers with equal high status, often producing volumes as low as 50 to 100 to accommodate companies who need urgent hand-outs at shows and seminars or groups who may have been let down by other suppliers. At the other end of the spectrum, recently 10,000 CDs were duplicated, printed and packed into printed card wallets and delivered within 14 hours.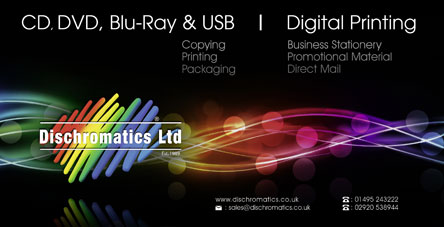 Dischromatics was established in 1989, is based in South Wales, UK and holds accreditations for Quality ISO 9001:2008 and the Environment ISO 14001:2004 as well as Investors in People Standard. They have vast experience in the digital and optical media industry, starting with floppy discs. Customers benefit from the partnership with Sony DADC, not only with the exceptional quality but the range of innovative discs and packaging available. Prices for CD Replication, DVD Replication, Blu-ray Replication as well CD Duplication, DVD Duplication and USB Duplication are surprisingly competitive and the company's reputation is the envy of other duplicators and replicators.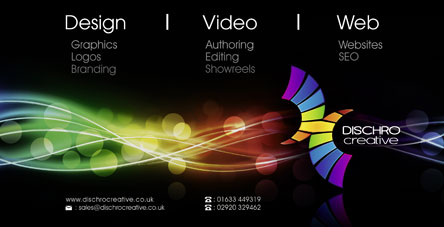 With
DVD Authoring and Blu-ray Authoring
available to create the master prior to creation of glass master and stamping, this company can take all the stress out of customer projects by overseeing the whole job right through to fulfilment.
To complement the CD Duplication and DVD Duplication, Dischromatics has its own
Digital Printing
facility and prints its own CD and DVD packaging. Not only printed colour booklets and CD and DVD Inlays and inserts but CD Digipaks and DVD Digipaks, which are ideal for Audio CD Duplication, Music CDs and Videos and Films in small runs, we already work with many individual artists, groups and bands with their runs of Duplicated Audio CDs.
Dischromatics has a Graphic Design department specially set up to help our customers with their design needs. This can be for CD Duplication and DVD Duplication and CD, DVD and Blu-ray Replication projects and also Logo design, web design and branding.
Using the Digital Printing for Direct Mail is an option taken up by many clients, with personalisation of individual prints, this can apply to graphics as well as names and addresses, with the variable data printing software used, a customer data base is input onto the rip drive and the software does the rest all in one run, this form of mail can be applied to booklets, brochures, leaflets, flyers and postcards and can increase the ROI to 10% to 15%.
View items for sale by Dischromatics Ltd here.
Find Dischromatics Ltd in
Location of Dischromatics Ltd
DVD CD Duplication & Replication Sponsors
10dpm is a full service digital media facility. We can help you deliver your message using all forms of digital media, both online and packaged.
Our duplication facility in Soho, London can turn around 1000s of DVDR per day with full colour printing.

CD Duplication
DVD Duplication
BluRay Duplication
CD-ROM Replication
Memory Stick USB Copying
Video Encoding
Coporate Branding of Media

AG Studios is located in St Albans and is a professional Video and Photography facility offering a wide range of services including corporate video photography, film and video editing as well as duplication services.
01727 762300