Company:
Jason Troughton SFX Supervisor
Telephone:
+44(0)3333448284
Address
The SFX Shed,
Unit 10 Green Farm,
Fritwell,
OX27 7QU,
England

About Jason Troughton SFX Supervisor
Jason Troughton (SFX Supervisor) has been creating physical and practical special effects for more than 30 years. Jason's first supervisor role was on the cult movie Sexy Beast in 2000. This kicked off Jason's career and his company AGOG SFX with a string of horror classics such as Seed of Chucky, Hills Have Eyes and Mirrors intermixing with other classics such as the BBC's award winning Krakatoa and Jonathan Glazer's amazing Sony Bravia 'Paint' commercial along with Peter Weir's The Way Back, Ralph Fiennes directorial debut Coriolanus and more recently Luca Gaudagnino's critically acclaimed movie A Bigger Splash.
Jason's quiet, pragmatic and enthusiastic approach to physical and practical effects provides an unrivaled quality across any genre. Always finding creative solutions in far flung places across the globe (5 continents and 38 countries) whether it's creating pyrotechnic and explosion sequences with materials not always associated with cinematic uses he is equally verse to creating heightened atmospheric conditions, such as; rain, snow, mist and fog elements that blend seamlessly with their natural surroundings.
Utilising local SFX teams with a select key members blending talents and a skill base to create memorable vivid, high reality special effects sequences.
Moviescope magazine (2011) featured Jason's approach to special effects for their Insider's POV article "The are of the invisible":
''Special effects are about adding detail that audiences are going to appreciate subconsciously just as much as giving them eye-popping spectacle. I try to create a heightened reality that sits seamlessly within the environment and genre of the film. This requires a level of attention to detail that is often not in the script, but the payoff is that physical effects can create unique and unexpected results by providing atmosphere and dimension''.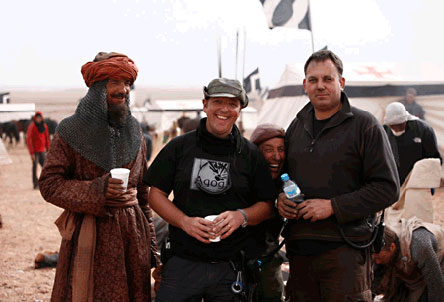 Extensive knowledge of the film making process allows Jason to configure the special effects department to suit the budget, mixing his specialist crew with local special effects teams to assemble adaptable, dependable teams that work with a positive attitude and deliver exceptional work, on time.
The easiest way to contact Jason is direct by phone or click for email and we'll be in touch as soon as...
Jason Troughton UK Cell +44 7966 448282

Find Jason Troughton SFX Supervisor in
Location of Jason Troughton SFX Supervisor
SFX - Supervisors Sponsors

Providing a huge range of Ingenious Special Effects for Film, TV and Live Events worldwide; MTFX have over 25 years' experience in Pyrotechnical, High Voltage, Wind, Smoke, Snow, Rain, Fire, Mechanical effects and so much more. From dry hire to bespoke technical jobs, nothing is too big or small.