Address
Crown Business Park,
Old Dalby,
Melton Mowbray Leicestershire,
Leicestershire,
LE14 3NQ,
England

About Hawthorn
Hawthorn Theatrical provide lighting, sound, power distribution, rigging, staging, star cloths and impact sails for parties, concerts, outdoor events, weddings and conferences, in short the complete technical solution for events whatever the venue. In addition they also have a thriving dry hire and sales department.
Hawthorn at the Centre of Culture in Europe
As the New Year approached, Hawthorn's Projects team were already busy preparing for a great kick start to 2008!
Working in close consultation with designer Andy Liddle, Hawthorn provided the extensive lighting rig for the launch of the new Liverpool Echo Arena, combined with the celebrations of Liverpool's new status as European City of Culture 2008. Featuring such artists as Ringo Star, Echo and The Bunnymen and 'The Farm', all accompanied by the Royal Liverpool Philharmonic Orchestra, this was a prestigious event that we were proud to be a part of.
The moving lights were almost entirely sourced from the Clay Paky Alpha range, comprising 12 of Hawthorn's exclusive Alpha Profile 1200s, 32 Alpha Spot 575 HPEs, 24 Alpha Wash 1200s and 24 Alpha Wash 575s. On top of these, the rig housed the new Alpha 300 range, with 24 HPEs and 12 Wash lights.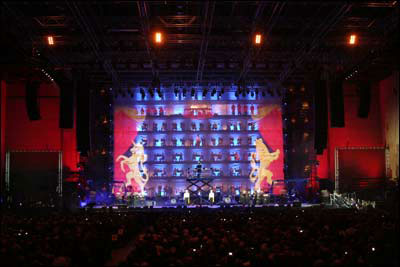 Also featured for effect were 24 GLP Impression LED moving heads, showing their intensity and speed to be unparalleled, even in an arena setting. These units were even rigged to the automated 45' cherry pickers just to make things more interesting. The arena side walls were lit with IPIX Big Boy LED floods, chosen for their wide spread, intense colour saturation and extreme brightness.
The main set piece (an 8-story building site scaffolding!) was back lit with Studio Due City Colours, while each bay of the structure was lit internally to stunning effect with a JT PixelLine 1044, controlled using Radlite's new PixelDrive2 software package. 32 Martin Atomics worked to provide brilliant welding effects during the opening sequence! The whole event was powered by 8 Avolite Art2000 racks all plumbed into the new arena's hefty distribution and controlled by 2 Flying Pig Whole Hog IIs and Wing.

Animatronics
Models & miniatures
Props
Pyrotechnics & fire
Prosthetics
Special costumes
Liquids
Sculpture
Atmospherics
Mechanical
Camera rigs

Providing a huge range of Ingenious Special Effects for Film, TV and Live Events worldwide; MTFX have over 25 years experience in Pyrotechnical, High Voltage, Wind, Smoke, Snow, Rain, Fire, Mechanical effects and so much more. From dry hire to bespoke technical jobs, nothing is too big or small.