Company:
Access Bookings Ltd
Address
20 St John Street,
Lichfield,
WS14 9HG,
England

About Access Bookings Ltd
Based in the cathedral city of Lichfield in the heart of the Midlands, Access Bookings has been specialising in TV and Film Hotel and Accommodation booking services since 1985.

Access Bookings provides a one stop travel and accommodation service exclusively for the media industry. We specialise in complex and ever changing travel itineraries that leave no room for error.
Great prices guaranteed
We are so confident that our rates are the absolute best that we offer a best rate guarantee. Tell us who and where and we'll match your quote- we won't be beaten on price.
We get you all the options; hotels, apartments, cottages, B&B's, lodges, chalets, barges, tree houses, castles, even yurts and canvas rooms. What ever works for your location and your budget we make it happen.
Room liasing, to avoid cancellation policies
Free credit and consolidated invoicing
Individual "ad-hoc" traveller reservations
24 hour dedicated service
Access to highly competitive fares
Specialists in group/event accommodation
Extensive bespoke media venue database
Worldwide locations
Budget managed solutions
Bespoke booking management tool

Access Bookings offer a broad range of conference & event management solutions, streamlining your event so you can spend more time mingling and less time managing. We understand that everyone has different objectives, budgets and visions to deliver to their delegates. Utilizing our knowledge, expertise and experience we create the successful event you are looking for.
Administration support
Registration/invitation management
24 hour dedicated service
Complete A/V support
Travel logistics
Feedback and evaluation services
Marketing support
Extensive venue database
Budget management
Detailed booking portfolio

Access Bookings provides travel management for demanding travellers with complex and ever changing travel itineraries that leave no room for error. With access to highly competitive corporate fares and an extensive, bespoke hotel inventory, our 24 hour service ensures we can meet all requests while minimising company travel expenditure and maximising value. Our full pre and post trip reporting keeps you fully up-to-date on all expenditures. Your client-dedicated consultant ensures our legendary "can do" service is delivered reliably and consistently every time.
We offer a full range of services to suit the world of media.
Air travel
Hotel reservations
Excess baggage discounts
Domestic rail
Eurotunnel/ferry reservations
24 hour dedicated service
Access to highly competitive fares
Groups, conferences, events
Leisure travel
Private aircraft charter
European rail
Car hire reservations
Door to door transfers
Foreign currency
Travellers cheques
Visa and health requirements
Quickly identify which guests are where and when, see what's happening with your bookings, get cancellation warnings and see how much it's all costing with our unique online managment tool.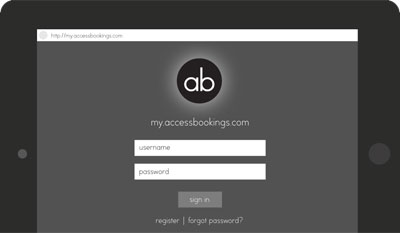 Access Bookings Ltd In The News
Find Access Bookings Ltd in
Location of Access Bookings Ltd