Company:
Fighter Collection
Address
Imperial War Museum Duxford Airfield,
Historic Aircraft UK and Europe Filming,
Cambridge UK,
Flying Historic Aircraft for film work uk,
CB22 4QR,
England

About Fighter Collection
The Fighter Collection operates, rebuilds and maintains Europe's largest collection of airworthy WWII aircraft and is based at Duxford Airfield, in the UK.
Run by a professional team of engineers and pilots for both airshow and film work, the aircraft fly all over Europe during the summer months to attend airshows from Austria to Switzerland.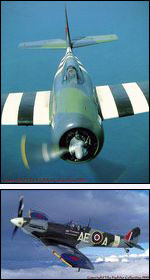 The fleet comprises of aircraft from the UK, USA, Germany, Russia and Italy
The collection is constantly expanding as new aeroplanes are acquired.World War 1 and 2 Fighters for aerial filming.
Find Fighter Collection in
Location of Fighter Collection