BROADCAST FILM AND VIDEO DIRECTORY
Company:
Telegenic - HD Outside Broadcast
Address
8 The Merlin Centre,
Lancaster Road, High Wycombe,
Bucks,
HP12 3QL,
UK

About Telegenic - HD Outside Broadcast
Telegenic provides a complete 3D and 4K High Definition package globally. We pride ourselves on bringing together exactly the right elements to make a seamless production. With our fleet of supertrucks we offer the ability to broadcast simulcast 2D, 3D, 4K or just HD, which ever the production requires.

Pioneers in High Definition and world leaders in 3D and 4K, we continually embrace and develop the latest technology to exceed our client's – and their audience's – expectations. Outside broadcasts are a technically and logistically challenging business for which nothing but the most reliable, resourceful and experienced partner will do. Welcome to our team.

With total flexibility and among the most user-friendly outside broadcast digital fleet of vehicles in the world, Telegenic is always ahead of the competition. Digital 16:9 or 4:3? Digital Disk Recorders or Digital tape Recorders? Bob Dylan or bobsleigh? Telegenic has the hardware and know-how to fulfill your needs. With Telegenic you don't just hire a complete facility, you access expertise and experience from a team who see themselves as an extension of the production team rather than the engineers behind the glass. Our large core staff know the equipment and the industry so you won't waste time on location.

*Outside broadcast
*Event outside broadcasting
*Outside Broadcast - Event coverage
*Outside Broadcast with HD OB units
*High Definition Outside broadcast UK
*OB facilities
*Outside Broadcast covering Sports events
*Outside Broadcast covering Outdoor events
*Outside Broadcast - Camera facilities

HD Outside Broadcast London - Outside Broadcast Manchester - Outside Broadcast Midlands - Outside Broadcast North Of England - Outside Broadcast Scotland - Outside Broadcast Wales.
Company News
02/10/2016
Live From the Ryder Cup: Sky Sports Makes Most of Telegenic Facilities
---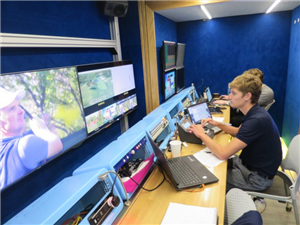 Sky Sports UK is onsite at the Ryder Cup and relying heavily on the world feed produced by European Tour Productions (ETP) and also calling NEP ND6 home for the week. But the production team is also making the most of Sky's own facilities, most notably the impressive studio set used at the Open Championship across the pond in July and making the most of Telegenic's T4 and T5 production trailers that have been at the center of U.S. golf coverage this season.
Many of the production trailers onsite at the Ryder Cup are similar in form and function. The exception? Telegenic's T5 trailer, an expandable OB unit that Sky Sports commissioned earlier this year for use on all of Sky Sports golf coverage in the U.S. With T5 in the compound, the Sky Sports production team has a mobile unit that can handle a wide variety of production functions depending on the level of golf tournament being produced.
"We looked at the cost of having something proper like T5 versus using trailers about 18 months ago and have now been using it for six months," says Clement. "This allows for simpler setup, and the talent can be in a nice environment for a week."
The T5 expandable production trailer houses a commentary cabin, a large and comfortable green-room area for talent, a DiGiCo audio console, and a small front-bench area used to manage the Hego with Perfect Parallel for the studio touchscreen monitor used by talent for analysis. An EVS XT3 server is on hand to record clips to be used during analysis, Grass Valley Edius is on hand for editing, and a Blackmagic Videohub provides vision-mixing support. The unit features equipment racks behind soundproof glass to create a quiet environment and also separate temperature-control zones to create a comfortable environment.
The Digico console inside the T5 trailer.
The DiGiCo console inside the T5 trailer
"On the lower-level golf events," says Clement, "the director and EP can cut a two-camera shoot of the touchscreen, and then that feed can go back to London as a separate unilateral from the world feed and then cut into that feed. So it's kind of like a mini remote-production facility."
At top-level events, such as the Ryder Cup and U.S. major tournaments, the T5 unit serves as the integration point for Hego, a top-notch green room for on-air talent as well as the commentary studio. Previously, Sky Sports would rent the typical portable office trailers and basically have to start from scratch for every event.
"The T5 unit can be deployed by one person in about 20 minutes," says Andrew Wisniewski, who oversees the unit for Telegenic. "Sky wanted to create the best possible facility to combine hospitality, a good commentary area, and all of the related equipment in one unit. You can also have different temperatures in different rooms, and the rooms are very quiet when you close the doors."
The T5 unit is complemented by T4, which is a nondescript green shipping container on the outside but inside has technical firepower for four Grass Valley Edius editing suites, featuring After Effects that can access 120 TB of onsite storage of previous golf events, and also provides quiet operation, thanks again to machine racks located behind glass doors.
At the Ryder Cup, the production team in T4 is working on show opens and three edit suites for features; the nature of the Ryder Cup makes it a very feature-rich environment.
"Also, certain walls can move to create different work spaces, like a meeting room," says Wisniewski. "You can also have different temperatures in different rooms and the rooms are very quiet when you close the doors."
01/01/2015
Telegenic has been appointed Host Broadcaster
---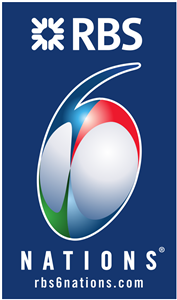 The Northern Hemisphere's most prestigious annual rugby tournament; The RBS 6 Nations, will be aired live on the BBC. Telegenic has been appointed Host Broadcaster for the Home Countries fixtures and as an add-on for all the European games during this seasons Championship. Telegenic will be supplying its state of the art technical facilities and expert crew.
"Telegenic are no strangers to broadcasting Rugby internationals as they do all the live matches with Sky and BT, and they'll be doing the World Cup [with ITV] as well, so they are very familiar with the venue and with rugby. There are no issues there, and they've done a fantastic job for us". Paul Davies, BBC Sport executive producer and match director at Twickenham
Find Telegenic - HD Outside Broadcast in
Location of Telegenic - HD Outside Broadcast
Outside broadcast Sponsors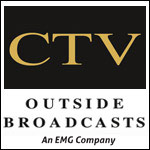 Outside Broadcast London South of England
Outside Broadcasting & Satellite Services
OB Vehicles
Contact us 020 8453 8989

Independent Outside Broadcast Facilities Company in the UK and amongst the largest in Europe. Mobile television OB trucks vans unit providing outside broadcast facilities with recording, live feeds and webcasts in digital and widescreen formats
Broadcast Services
Outside Broadcast
Satellite Services
Hi Def OB
Outside Broadcast & Satellite Services