BROADCAST FILM AND VIDEO DIRECTORY
Company:
Telegenic - HD Outside Broadcast
Address
8 The Merlin Centre,
Lancaster Road, High Wycombe,
Outside Broadcast Bucks UK,
HP12 3QL,
UK

About Telegenic - HD Outside Broadcast
Telegenic provides a complete 3D and 4K High Definition package globally. We pride ourselves on bringing together exactly the right elements to make a seamless production. With our fleet of supertrucks we offer the ability to broadcast simulcast 2D, 3D, 4K or just HD, which ever the production requires.

Pioneers in High Definition and world leaders in 3D and 4K, we continually embrace and develop the latest technology to exceed our client's – and their audience's – expectations. Outside broadcasts are a technically and logistically challenging business for which nothing but the most reliable, resourceful and experienced partner will do. Welcome to our team.

With total flexibility and among the most user-friendly outside broadcast digital fleet of vehicles in the world, Telegenic is always ahead of the competition. Digital 16:9 or 4:3? Digital Disk Recorders or Digital tape Recorders? Bob Dylan or bobsleigh? Telegenic has the hardware and know-how to fulfill your needs. With Telegenic you don't just hire a complete facility, you access expertise and experience from a team who see themselves as an extension of the production team rather than the engineers behind the glass. Our large core staff know the equipment and the industry so you won't waste time on location.

*Outside broadcast
*Event outside broadcasting
*Outside Broadcast - Event coverage
*Outside Broadcast with HD OB units
*High Definition Outside broadcast UK
*OB facilities
*Outside Broadcast covering Sports events
*Outside Broadcast covering Outdoor events
*Outside Broadcast - Camera facilities

HD Outside Broadcast London - Outside Broadcast Manchester - Outside Broadcast Midlands - Outside Broadcast North Of England - Outside Broadcast Scotland - Outside Broadcast Wales.
Find Telegenic - HD Outside Broadcast in
Location of Telegenic - HD Outside Broadcast
Outside broadcast Sponsors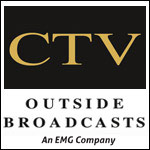 Outside Broadcast London South of England
Outside Broadcasting & Satellite Services
OB Vehicles
Contact us 020 8453 8989

Independent Outside Broadcast Facilities Company in the UK and amongst the largest in Europe. Mobile television OB trucks vans unit providing outside broadcast facilities with recording, live feeds and webcasts in digital and widescreen formats
Broadcast Services
Outside Broadcast
Satellite Services
Hi Def OB
Outside Broadcast & Satellite Services