BROADCAST FILM AND VIDEO DIRECTORY
Telephone:
+44 (0) 1373 865 548
Address
Link Road,
West Wilts Trading Estate,
Wiltshire,
Westbury,
BA13 4JB,
UK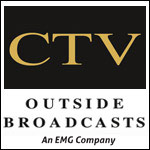 OB Vehicles London
OB Vehicles North of England
OB Vehicles South of England
OB Vehicles UK and Europe
UK's Number One High Definition outside broadcast facility. We operate a fleet of Standard and High Definition generously proportioned production vehicles and a number of fully digital de-rigs or portable production units
Neon Broadcast Services provide location television facilities to television production companies and broadcasters, both terrestrial and satellite, throughout the UK and overseas. We offer a top level of freelance television professionals.
Related Companies

SPECTRA
Link Road, Wiltshire
Tel : +44 (0) 1373 865 548