BROADCAST FILM AND VIDEO DIRECTORY
Company:
Abacus Television | LIGHTING CAMERAMAN | Norfolk
Contact:
Robert Scarfe Cameraman
Address
Freshfields studio,
Great Melton Road,
Norfolk,
Little Melton,
NR9 3NR,
England

About Abacus Television | LIGHTING CAMERAMAN | Norfolk

ROBERT SCARFE – ABACUS TELEVISION
LIGHTING CAMERAMAN, NORWICH, NORFOLK, EAST OF ENGLAND, UK
Lighting cameraman for broadcast, commercial, promotional and corporate video production. Norwich, Norfolk and Eastern England.
Owner operator Panasonic DVC Pro 50/25 SDX 900 16:9/4:3 switchable, Canon J16x8 IFXS broadcast lens. On-board audio TXir UHF diversity radio mic system, body pack and hand-held mics, Sennheiser reporter mic. Vinten 100 head and legs and standard PSC lighting kit. Same-day delivery on any broadcast standard format at no additional cost.
Shooting on other formats – ie DigiBeta/DVCAM – and additional lenses available with notice or happy to use any broadcast camera. Regularly uses Digital Betacam DVW 790WSP, Panasonic SDX 900, DSR 570 and Sony XDCAM.
Senior in-house cameraman for Abacus Television and also freelances PSC for ITN, Sky News, Sky Sports News, Channel 4 News GMTV and Viasat Sport in Denmark. Has also crewed national lives for GMTV, ITN and Channel 4.
Recent commercial production camerawork include Serco, RNLI, Zip Heaters (UK) Ltd, Norfolk County Council, Norwich City Council, South Norfolk Council, Allens Music Centre and Transport Video Publishing.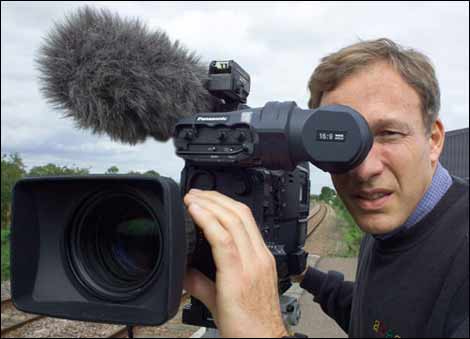 Find Abacus Television | LIGHTING CAMERAMAN | Norfolk in
Location of Abacus Television | LIGHTING CAMERAMAN | Norfolk

Sony PMW 500/700 and HD Cameraman and specialists in Camera Crew Hire, Film Crew Hire, Polecam Hire and Corporate Video Production Services - Bristol, UK.

Hire a cameraman provides professional camera crews for broadcast and corporate work across the world. Call us now for a quote.

CREW IN MOTION is a production company dedicated to providing you with the highest standard of television and commercial production services in Spain.
TV Camera Crews
Commercials
Outside Broadcasting Crews