Primera Technology is the world's leading manufacturer of automated BD, DVD and CD duplicators and printers and is known for its world's best-selling Disc Publisher line.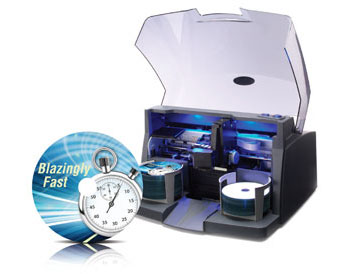 Primera offers different disc publishing systems that automatically and hands-free burn and print optical media. Each of the systems meet the requirements of different production runs and applications.

1. The world's smallest duplicating and printing system is the Disc Publisher SE with a capacity of 20 discs. It fits on any desktop and is the perfect match for public relations and marketing agencies or departments, for photo and video and independent music studios.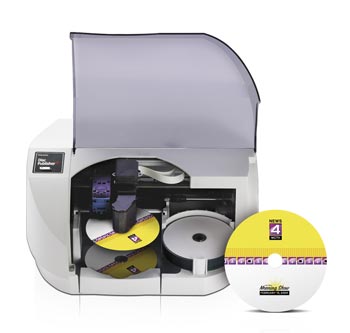 2. Brand-new is Primera's DP-4100 Series - the fastest disc publishers and printers in the world. At just six (6) seconds the DP-4100 Series models print each disc with 100% coverage in near-perfect quality - in fact 20 times faster than competitors for similar print quality. Additionally, DP-4100 Series features 3 times faster robotics for higher throughput, interior blue LED lighting for job status feedback and for the very first time separate ink cartridges for Cyan, Magenta, Yellow and Black (CMYK). This lets you replace only the colour(s) that need replenishing, saving you money on every disc you print. This is especially true if you use more of one colour on your discs than another. With three models available, there's a DP-4100 Series model for almost any disc printing or disc publishing need.

DP-4100 Disc Printer – 100-disc capacity, print-only version with no drives; perfect for side-by-side use with tower-style disc duplicators.
DP-4051 Disc Publisher – 50-disc capacity with one high-speed CD/DVD recording drive.
DP-4101 Disc Publisher – 100-disc capacity with one high-speed CD/DVD recording drive.
DP-4102 Disc Publisher – 100-disc capacity with two high-speed CD/DVD recording drives.
Blu-ray versions of DP-4101 and 4102 are also available.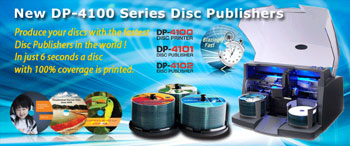 3. The professional industry-grade DP-4102 XRP is intended for customers with mission-critical applications in need of high reliability and security. It includes all of the features of the DP-4100 Series, but adds a tough 18-gauge steel cabinet, locking front door, high-wattage auto-switching commercial power supply and can also be rack-mounted to save space and make it more secure. DP-4102 XRP is perfect for medium-sized production volumes.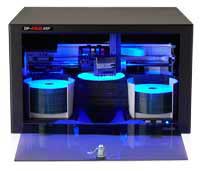 Customer's satisfaction is our main priority. That's why everything that a customer needs is included to start producing discs right away, including a duplicating and printing software for Windows and Mac OS platforms, ink cartridges and a pack of CDs. After registering their publisher at www.primerawarranty.com customers have access to free software updates and receive an extended 24 months warranty at no additional costs.

Especially meeting the needs of videographers, Primera's PTProtect is a software program built within Primera's PTPublisher duplication software that provides a reliable and effective anti-rip solution for protecting DVD Video by preventing unauthorised duplication.