Broadcast News
15/11/2007
Ascent Media Companies Complete Post-Production On Brit Flick 'Brick Lane'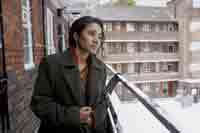 Three Ascent Media companies Soho Images, Computamatch and One Post have completed almost the entire post-production on a new British feature film, 'Brick Lane'.
Brick Lane is an epic yet intimate film set in the Asian community in London's East End. Still a teenager, Nazneen finds herself in an arranged marriage with a disappointed man twenty years her senior.
Rob Pizzey, Senior Digital Film Colourist One Post, commented: "I started discussions with DOP Robbie Ryan and Director Sarah Gavron, about the look of the film about one month before grading. It was decided that a rich look suited the film, bringing out the bright, jewel-like colours in the costumes etc. The grade starts with rich saturated colour in Bangladesh then moves to London's Brick Lane in mid-winter which is cooler and slightly de-saturated. The narrative arc of the film then runs over the course of a year, during which I created the look of specific seasons, Spring, Summer, Autumn and Winter, using subtle secondary colour isolation.
"Brick Lane was beautifully lit by DoP Robbie Ryan - it was great to work with him again after the last film we worked on together, Andrea Arnold's 'Red Road'.
"The film was shot mainly on Fuji stock and we decided to scan from cut neg - flash to flash. The scan was carried out on Arri scan at super 2K and the edl supplied by the editor, was used to automatically select the shots needed to carry out the conform. We used the information provided by the scanner key code reader, to apply specific setups for each film stock. All material was transferred onto our SAN.
"The same edl was used to carry out the conform on our 2 Quantel IQ's. Titles, optical effects and visual effects were also carried out on the IQ's. When we had the conform checked by editorial we started grading, using the DaVinci 2K Plus real time grading system. All the grading was carried out in our 8 metre throw theatre, on a 5 by 3 metre screen with a Barco DP 90 projector directly from the 2K images. We used the truelight colour management system, to emulate the print look on the digital projector."
For more information:
www.ascentmedia.co.uk
(DS)
Top Related Stories
Click here for the latest broadcast news stories.