Broadcast News
01/08/2007
'Gandhi My Father' Telling Tragic Tale Of Famous Father And Son Relationship Set For Release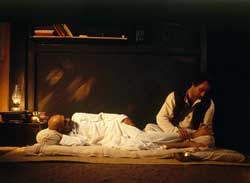 Eros International has announced its next global release, 'Gandhi My Father'.
Described as 'the most captivating and revolutionary film ever to emerge from India', the film documents the untold story of Gandhi's tragic relationship with his eldest son.
Releasing on 3 August 2007, Gandhi My Father is a powerful study of the nature and sufferings of the patriarchal relationship between one of the world's most loved figures – 'Mahatma' Gandhi - and his misfortunate eldest son Harilal.
Based on his thought-provoking play, 'Mahatma v/s Gandhi', veteran thespian of Indian theatre and cinema Feroz Khan has combined his unparalleled talents as a writer and director with the production skills of fellow industry stalwart Anil Kapoor, to create the most affecting film of modern times.
'Gandhi My Father' delves deep into the personal tragedy that Gandhi kept secret from the world, Feroz Khan's filmic tour de force focuses on the doomed relationship between a father respected by an entire nation, but rebuked by a son who was disowned, and whose bitter end was the result of years of abject alcoholism.
At the forefront of Indian theatre today, Feroz Khan is recognised as much for exploring new forms, as for bringing Hindi theatre and film, mainstream recognition. In a career spanning more than two decades, he has directed some of India's finest acting talent, both from stage and cinema, and his English theatre production of Mahatma v/s Gandhi created a sensation wherever it was staged.
Coming from a family that has been involved in the art of filmmaking for the past 50 years, actor Anil Kapoor has entered the realm of production with Gandhi My Father, and brings thorough knowledge and wide experience to the craft. He forays into independent production with his banner, Anil Kapoor Films Company, joining hands with the London-listed, leading integrated media and entertainment Company Eros International, to bring to the audiences a story that gives fascinating insight into Gandhi's life; not so much as father of the nation, but as a father to his son, Harilal.
Gandhi My Father is released and distributed worldwide by Eros International.
Eros International remains committed to giving Indian cinema a global platform and backing socially relevant films with commercial distribution and marketing muscle.
Kishore Lulla, Chairman & CEO of Eros International said: "Gandhi My Father marks a milestone in the 30 year history of Eros International. This colossal piece of filmmaking, unparalleled by anything that has come before, makes its debut on the global platform of cinema, and we are exceedingly proud to take ownership of the distribution rights of a film that will make its own mark in history."
Nelson Mandela having seen the film in Johannesburg commented: "We have seen, heard and read about many aspects of Gandhi's life through various mediums. We have even drawn inspiration from him to fight for justice and truth. However, this unique story of a father coming to terms with his family is instructive and deeply moving."
For more information on the film:
www.erosentertainment.com
(DS/SP)
Top Related Stories
Click here for the latest broadcast news stories.