Broadcast News
27/06/2019
Zylia To Host Pop-Up Recording Studio At La Roche Bluegrass Festival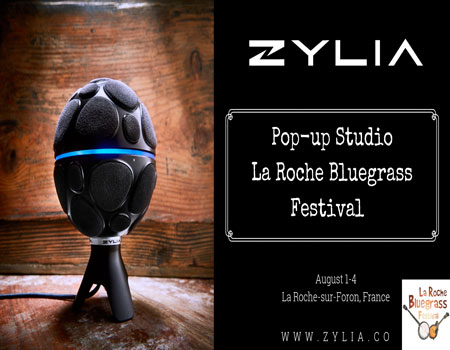 Zylia is to host a pop-up recording studio and an exhibition booth at the La Roche Bluegrass Festival, the largest European festival dedicated exclusively to bluegrass music.
At the free festival, 31st July to the 4th August, at La Roche-sur-Foron in France, Zylia will showcase the company's ZYLIA ZM-1 third-order Ambisonics microphone and ZYLIA Studio software, demonstrating how the innovative technology makes it easy for musicians and bands to capture the entire sound scene as they perform and then create and fine-tune a balanced mix either with ZYLIA Studio's AUTOMIX option or using manual controls.
"We're excited about bringing the ZM-1 to the La Roche Bluegrass Festival, because it is the perfect one-mic solution for capturing bluegrass music, practices, impromptu jam sessions, and scheduled performances," said Tomasz Żernicki, Zylia co-founder and chief technology officer. "The unique recording capabilities of the ZM-1 microphone array and the processing capabilities of ZYLIA Studio allow musicians to obtain a great-quality recording, extract individual instruments into separate tracks, adjust the volume and panning of those instruments, or automix them."
The combination of ZM-1 microphone and ZYLIA Studio software was designed for musicians to be a fast, easy, and affordable solution for high-quality music recording and mixing. The compact and lightweight spherical microphone comprises 19 high-quality microphone capsules and offers 360-degree sound capture (48-kHz/24-bit resolution) that can be configured and manipulated using ZYLIA Studio. With the Automix features, musicians can get a balanced recording right away, and they can change the volume and panning of separated tracks of instruments and mix them with just a few clicks. The highly portable system requires only a USB connection to a Mac, PC, or a Windows tablet for both data transfer and power supply.
www.zylia.co
Top Related Stories
Click here for the latest broadcast news stories.