Broadcast News
19/06/2019
disguise Helps House Of Dancing Water Overhaul Its Production Workflow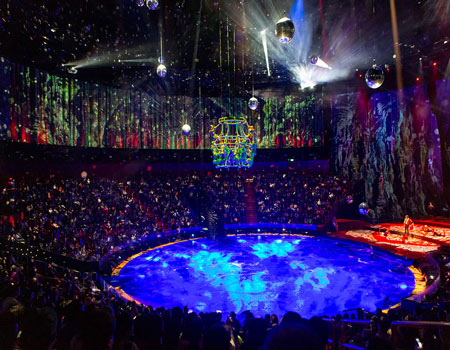 The House of Dancing Water, a world-renowned show, has overhauled its entire production workflow, and invested in a new fixed technology infrastructure, powered by disguise.

There was a unique brief on Macau's acclaimed $250 million show; to preserve Dragone's original design aesthetic, whilst increasing technology efficiencies through the upgrade of critical hardware and infrastructure.
"One of the key challenges I had through this migration was to safeguard the integrity of the original video content," stated Eve Bernier, Lead Projectionist since the shows creation, "Not only were we able to achieve this, but ended up adding an extra punch to our outputs, creating even more magic for the audience. This was thanks to the combination of the disguise VFC card capabilities, and the signal carrier, Lightware Ubex, which allowed for an increase in resolution, and considerable gain in surface coverage per projector."

"These elements, alongside dynamic blending achieved through the disguise software, resulted in powerful and refreshed brightness," added Eve. "Details that were invisible before, are now some of the most talked about features of the show. The use of the new technology enabled a fuller experience for audience members, but still honoured the craftsmanship behind the beautiful original designs for the video projection."

Re-invigorating the workflow allowed disguise to retain and respect the original production, whilst breathing new life into it for today's demanding entertainment environment. Dragone, in connection with disguise partner OpticShock, implemented several disguise technologies that now sit at the heart of the entire fixed installation, including disguise's OmniCal system and a combination of 4x4pro's and gx 1 servers.

"The decision to go with disguise was multi-layered," said David Eversfield, from OpticShock. "The hardware provides a solid, industry-proven platform with a clear growth path for the future, combined with software that's powerful and flexible enough to deal with a demanding timeline composited show. The support teams available internationally and locally are knowledgeable and sensitive to production environments, all while the growing user community provides a rich pool of future crew for the show."

David also explained how using disguise OmniCal made all the difference to this world-renowned production. "Working in a 270-degree theatre, the OmniCal system allowed us to align the video projection to the space in a way similar to how sound engineers tune the audio to the venue. By generating 3D point clouds of the actual space, our image alignment and soft edge blends are easier to calculate, sticking the projection onto the surfaces."

David added: "Two challenging surfaces in the production were hanging drapes with deep fullness. With OmniCal, we were able to model these with simple curved primitive in disguise, and then deform to fit the curtain, creating the desired effect from the original Dragone production."
Top Related Stories
Click here for the latest broadcast news stories.