Broadcast News
15/05/2019
Gudsen MOZA Releases Two Ingenious Products At NAB 2019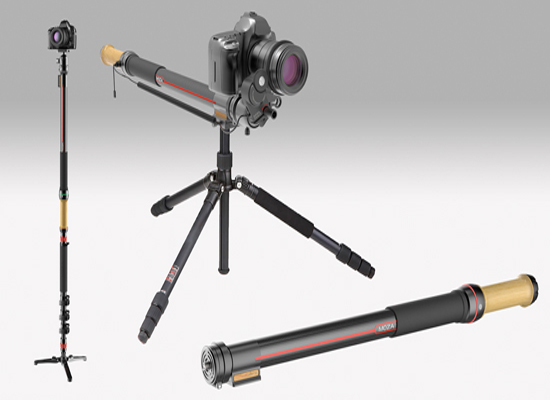 Gudsen MOZA, one of the leading pioneers in the gimbal stabilizer industry, blazes a trail by releasing two ingenious products at NAB 2019.

• Slypod: The world's first motorized monopod that delivers accurate slider motion control. Crafted with lightweight carbon fibre material and powered by an ultra-high energy density motor the Slypod smoothly and gracefully extends and retracts its reach

• AirCross 2: This new gimbal stabilizer compatible with most mirrorless cameras and DSLRs, offers solid support while weighting less than its predecessor. With easy setup and balancing, integrated smart control system and 3-axis lock design.
MOZA Slypod - Less is More
MOZA Slypod is a 2 in 1 monopod and slider, with a high precision motion slider encased in a lightweight carbon fiber body. Weighing less than a kilo including the batteries the Slypod provides support for vertical payload of up to 18 kg and horizontal payload of up to 12 kg. It's the most powerful motorized slide available in its size.
The precise drive tech was inherited from the famous Mars Rover, allowing the high density motor to generate torque of up to 1 N/m
Compatible with the MOZA app and optional Handunit it allows creation of programmable time lapses with adjustment over sliding speed and telescopic length
The weatherproof design provides maximum protection against dust, wind, and sand.
MOZA AirCross 2 - Beyond Your Imagination

The second new product is MOZA AirCross 2. An incredibly innovative design positioning the camera close to the tilt motor, allowing for better shots. You don't even need to release the gimbal from the camera. This allows you total access to the entire interface of the camera as well as the battery cover.
An additional bracket that allows you to quickly switch between portrait and landscape modes whilst the powerful motor and the exquisite mounting space make it easy to handle both mirrorless and DSLR cameras. MOZA Aircross 2 is compatible with a multitude of lens and cameras combos, from BMPCC 4K with its massive micro lens or the large aperture zoom lens to the professional grade DSLR with a vertical shooting handle.
A 3,000 mAh battery powers the MOZA Aircross 2 for around 12 hours. The battery has a built-in USB charging interface and can be fully charged in 1 1/2 hours.
A three-axis lock design saves time and effort setting up and making it easy to transport and with a total weight of 950g it is one of the lightest stabilisers available.
Multiple advanced shooting modes such as time lapse mode, inception mode and sport gear mode add dramatic and cool elements to your shots
MOZA AirCross 2 also provides flexible expansion possibilities with a 1/4' and two 3/8'screw ports. Compatible with a host of additional accessories. Customizable buttons like smart wheel, dial wheel and smart trigger allow users seamless camera control, while the OLED screen provides intuitive display of gimbal status and camera parameters.
For further information please contact Digital Distribution (GB) Ltd on
Tel: 01442 230022 or
sales@ddlt.co.uk
Top Related Stories
Click here for the latest broadcast news stories.