Broadcast News
22/08/2018
Rohde & Schwarz To Support German TV Platform UHD Demo At IFA 2018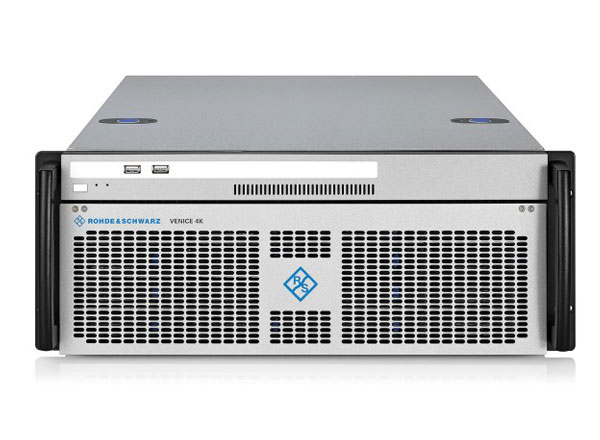 Rohde & Schwarz is to support the German TV Platform's UHD demonstration at IFA 2018 with a range of solutions.
The R&S VENICE 4K ingest and playout platform, R&S AVHE100 encoding and multiplexing solution and R&S SFC multistandard modulator will be utilised to deliver the demonstration at booth 203, hall 26, from 31 August - 05 September.
A series of clips in SDR and HDR/HLG format will be looped on a 77" UHD TV, offering visitors an ultra high definition viewing experience with extremely high-contrast images.
4K material will be played out via the R&S VENICE 4K ingest and playout platform and transferred with HDR metadata to the R&S AVHE100 encoding and multiplexing solution. The R&S AVHE100 will encode the video data in the efficient HEVC format, create a multiplex and transmit it to the R&S SFC multistandard modulator. The modulated signal will be fed to a TV and displayed.
R&S VENICE 4K is a classic video server for SDI ingest and studio playout, file import, transcoding and media transfer operations. The R&S AVHE100 encoding and multiplexing solution is a fully software based, flexible multi-codec platform that supports HEVC, H.264 and MPEG-2. It also permits all types of codecs and resolutions to be combined in a statistical multiplex.
Der R&S SFC compact modulator is a cost-efficient multistandard signal source. It supports realtime coding for all conventional digital and analog TV and audio broadcasting standards. A built-in controller makes the modulator ideal even for standalone operation.
The German TV Platform is an association of commercial and public broadcasters, hardware manufacturers, infrastructure operators, service and technology providers, research institutes and universities, German federal and state authorities, as well as other companies, organisations and institutions concerned with the development and promotion of digital media. For 25 years, the registered organisation has been committed to introducing and promoting digital technologies based on open standards.
IFA 2018 takes place in Berlin from 31 August until 05 September.
www.rohde-schwarz.com
Top Related Stories
Click here for the latest broadcast news stories.