Broadcast News
19/06/2018
Ideal Systems Secures Three Year Deal For Malaysian Football Production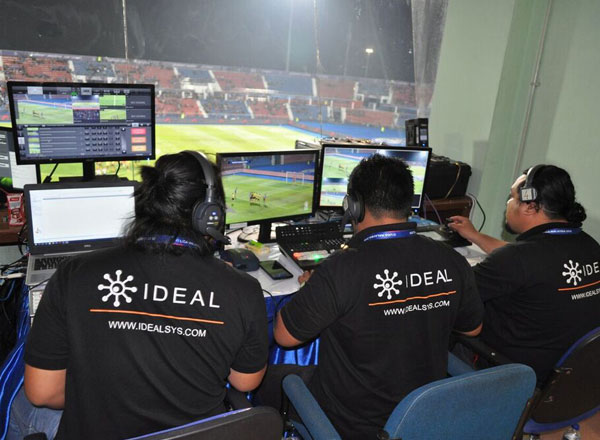 Ideal Systems has signed a three year contract for live production of the Malaysian Football League for OTT operator iflix.
Owners of the Malaysian Football League (MFL), Football Malaysia Limited Liability Partnership (FMLLP), commenced live production with Ideal in February and will continue to November 2020.
FMLLP has five Malaysian football entities under its jurisdiction, including; Liga Super, the Liga Premier, The Piala Malaysia, the FA and the Sumbangsih cups. The deal will see Ideal Systems provide live production services including, encoding and transmission of live matches from venues, IP based broadcast grade Multi camera production, and distribution of matches to various 3rd parties such as Media Prima, RTM and TM UnifiTV. It will also supply encoding of all matches to the iflix platform, operating the technical and monitoring facility for all matches, live ingest, editing , asset management and publishing facilities and provide a remote production facility for live commentary, graphics and ad insertions. The partnership also covers the Malaysia Cup knockout competition, which will now be known as the Unifi Malaysia Cup, a total of about 100 matches a year.
iflix is a subscription video on demand (SVOD) OTT service provider. From its headquarters in Kuala Lumpur, Malaysia, it serves as a digital hosting and distribution platform offering premium OTT services to more than 6.5 million subscribers in 25 countries across Asia, Middle East, and Africa. iflix has collaborated with FMLLP and Ideal Systems to live stream every Liga Super, Piala Malaysia, and marquee Piala FA matches exclusively for football fans in Malaysia on the new "Football Malaysia on iflix" channel.
Fintan Mc Kiernan, CEO of Ideal Systems in South East Asia, said: "We are using cutting edge IP technology for our Ideal-Live services which lead to major performance benefits and cost efficacies for FMLLP and iflix, even the Football Clubs will benefit with increased profitability and a tighter relationship with their fanbase. We are using the latest technology with new IP production platform which incorporates graphics, timers, slow-motion, instant replay, and commentary utilising IT and IP based solutions.
"Our use of these new IP technologies dramatically streamlines production workflows by allowing the use of smaller and quick setup Multi-Camera Production teams together with new unmanned broadcast grade remote camera systems covering the entire field and backhauling from the stadiums across Malaysia with the latest Dejero IP encoders are able to transmit by bonding 4G cellular, public internet and satellite over IP to contribute signals to any location throughout the world. With this technology we are able to transmit any match from venue to any distribution point around the world either to any on premise broadcaster or directly to a cloud-based service or a CDN if desired. This allows FMLLP to quickly scale and provides the flexibility to distribute rights and carriage around the world."
Dez Corkhill, Director of Content, FMLLP, added: "We chose IDEAL Systems because they offered practical solutions to our specific requirements and were not afraid to suggest - and implement - innovative technologies to bring the football closer to the viewer. We keep throwing new challenges their way, and IDEAL have managed each new situation by creating innovative, near ingenious, solutions, as well as being reliable and consistent in the regular 'Must-have' deliverables. They've been with us every step of the way. From the start, IDEAL were able to cope with very quick turn-around issues and have been integral in all aspects of what we are trying to create: From the cameras on and off the pitch, to the picture on the mobile device, they have offered a strong blend of production values, deep technology understanding, and practical solutions."
idealsys.com
Top Related Stories
Click here for the latest broadcast news stories.