Broadcast News
11/02/2016
London Launch For X-Rite ColorChecker Video Targets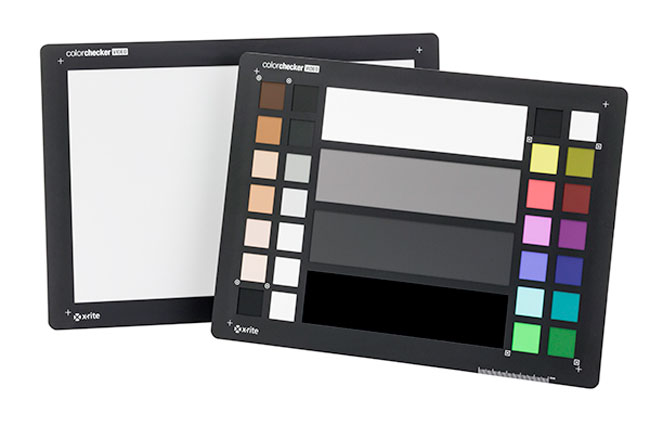 X-Rite's new ColorChecker Video Targets is to launch in the UK later this month, it has been announced. XP Distribution, distributor for X-Rite's products, has said the products will debut at BVE 2016, Stand S15.
X-Rite's ColorChecker Video Targets are available in two forms to deliver consistent and repeatable results frame-to-frame and camera-to-camera. It comes in a pocket-sized, all-in-one case with four different targets. The targets are:
• A colour reference for evaluating specific chromatic colours aligned with video production, including skin tones, grey balance and highlights and shadows
• White balance for creating a consistent neutral white point, eliminating the need to correct each frame later
• A three-step grey scale target that includes white highlight, 40 IRE mid-tone grey and saturated black references
• A focus target that facilitates centre and edge focus
ColorChecker Video's larger format is suited for camera checks and wider shots, both in studio and on location. This two-sided target includes:
• Two series of grey scale patches; seven smaller patches for even grey balance with extra steps close to the highlight and shadow regions, and four larger grey level rectangles, including a high gloss black, that are recognised by the camera
• A range of skin tone patches from light to dark along the outer edge for easy alignment
• A series of saturated and desaturated chromatic colours allowing for appropriate colour and saturation adjustments
• A full size white balance target on the reverse side
Geoffrey Clements, Managing Director of XP Distribution, said: "For many film makers, colour control is a critical part of their workflow. The experts on the X-Rite stand will be able to demonstrate how they can make this process easier, saving valuable time and money."
www.xrite.com
(JP/LM)
Top Related Stories
Click here for the latest broadcast news stories.