Broadcast News
01/04/2015
Deluxe And BT Media & Broadcast Announce Alliance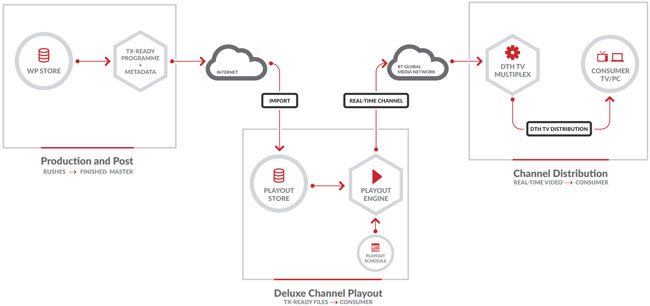 Deluxe Entertainment Services Group Inc. has announced a contract with BT Media & Broadcast. The agreement will extend the reach of MediaCloud, Deluxe's software orientated broadcast platform, utilizing BT's global network connectivity. The alliance is focused on delivering managed channel origination and distribution globally.
Transforming the broadcasting chain from content acquisition through to play-out and delivery, this new alliance will offer broadcasters increased flexibility free of compromise and with the capability to deliver to any platform, anywhere, anytime and in any format.
Under the deal, Deluxe and BT Media & Broadcast will offer a software-based broadcast playout solution, giving broadcasters and content owners an alternative to legacy owned and operated hardware-centric broadcast platforms. In contrast to the previous infrastructures, the joint solution eliminates the need for large capital investment and future-proofs the broadcast supply chain – bringing flexibility and control back to the broadcaster.
Designed to meet the most complex and demanding distribution and delivery requirements for linear and non-linear broadcast platforms, the alliance enables clients to quickly and reliably launch, manage, and monetize channels and content on a global scale.
"This is a very significant step in the revolution taking place in broadcast technologies," commented BT M&B VP, Mark Wilson-Dunn. "The combination of our media grade global networks, and the Deluxe MediaCloud platform, together with the professionals behind it, is a winning proposition," he adds.
Deluxe MediaCloud MD, Maurizio Cimelli, added: "The MediaCloud platform is designed to transform broadcasting from content acquisition through to play-out and delivery. Its agility, cost effectiveness and resilience is designed to offer broadcasters far more flexibility without compromising quality.
"We are proud to be partnering with BT to extend the reach of the platform, and their enthusiasm in supporting this innovative approach to broadcasting has been unparalleled."
www.deluxemediacloud.com
www.btplc.com
(JP)
Top Related Stories
Click here for the latest broadcast news stories.