Broadcast News
03/11/2014
SCTE Balkan Broadband Conference Hailed A Success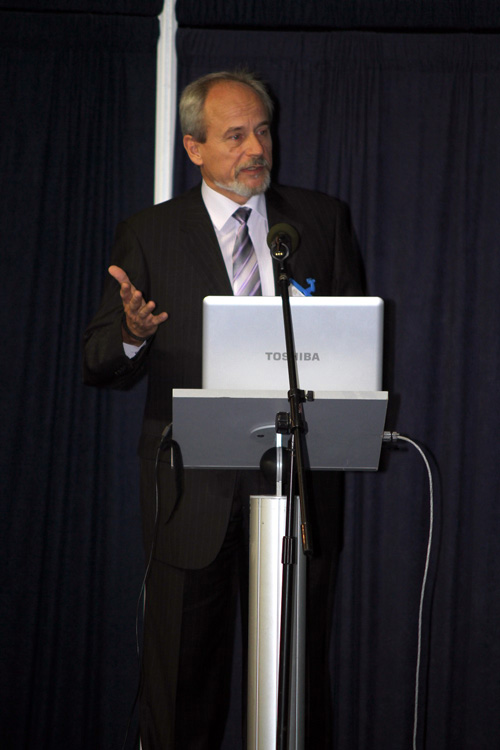 The SCTE has announced that its sixth Balkan Broadband conference and exhibition at the Holiday Inn, Belgrade, on 2 October attracted approximately 250 delegates and 26 exhibitors and sponsors.
Supported by the Serbian Ministry of Trade, Tourism and Telecommunications, the Balkan Broadband conference and exhibition was hosted by the SCTE in cooperation with PUKOS, the Business Association of Cable Operators of Serbia.
Opening keynote presentations about the current broadband and cable environment in Serbia were delivered by the Serbian Ministry of Trade, Tourism and Telecommunications and Andrija Bednarik (pictured), President, PUKOS.
"Cable distribution subscribers in Serbia numbered 1,552,000 in 2013," said Bednarik in his speech to delegates. "CATV operators invest substantial resources into digital CATV technologies, so it is realistic to expect constant and intensive growth of investment in this area. The Internet market in Serbia is constantly expanding. The total number of broadband connections in 2013 was almost 1.4 million, excluding 3G network subscribers, while the increase of revenues in 2013 compared to 2012 was around 20 per cent."
Additional keynote presentations included Dr. Aleksandra Gagic, Head of Unit for Cable Access Network Planning and Development at Telekom Srbija, and Goran Poposki, President of the South East Europe Broadband Council (SEEBC) and CEO of ASI. Jeremy Lang, Head of Commercial Section, British Embassy, Belgrade discussed 'The Development of Cable Networks in Serbia', whilst Premton Bogaj of Technetix presented on 'The Impact of LTE on the In-Home Installation'. The presentation portion of the event concluded with ATEME's outlook on 'HEVC and UHDTV – New Compression Technology'.
"The SCTE has developed a strong presence in the Balkans and has a long history of providing quality training, networking events and lectures in the region," said Dr. Roger Blakeway, President, SCTE. "We would particularly like to thank the Serbian Ministry of Trade, Tourism, and Telecommunications, PUKOS, the British Embassy, Telekom Srbija and all of our sponsors and exhibitors, as well as those who visited the event, for their support."
www.theSCTE.eu
(IT/JP)
Top Related Stories
Click here for the latest broadcast news stories.